Secret League Americas 2020
(SLA20) is an American-timezone league that uses the
Secret League 2020 ruleset
. Detailed info on Secret League 2020 can be found
here
- essentially, it comprises some 100+ custom team rosters that can be used, in addition to the twenty-
mumble
-someodd standard Blood Bowl rosters.
Round deadlines for Season 5:
start 18 October 2023
Round
Rookie
Veteran
1
29 Oct
31 Oct
2
8 Nov
12 Nov
3
19 Nov
26 Nov
4
3 Dec
10 Dec
5
13 Dec
24 Dec
6
24 Dec
7 Jan
7
7 Jan
21 Jan
8
17 Jan
4 Feb
9
28 Jan
18 Feb
10
7 Feb
-
11
18 Feb
-
League Structure and Scoring: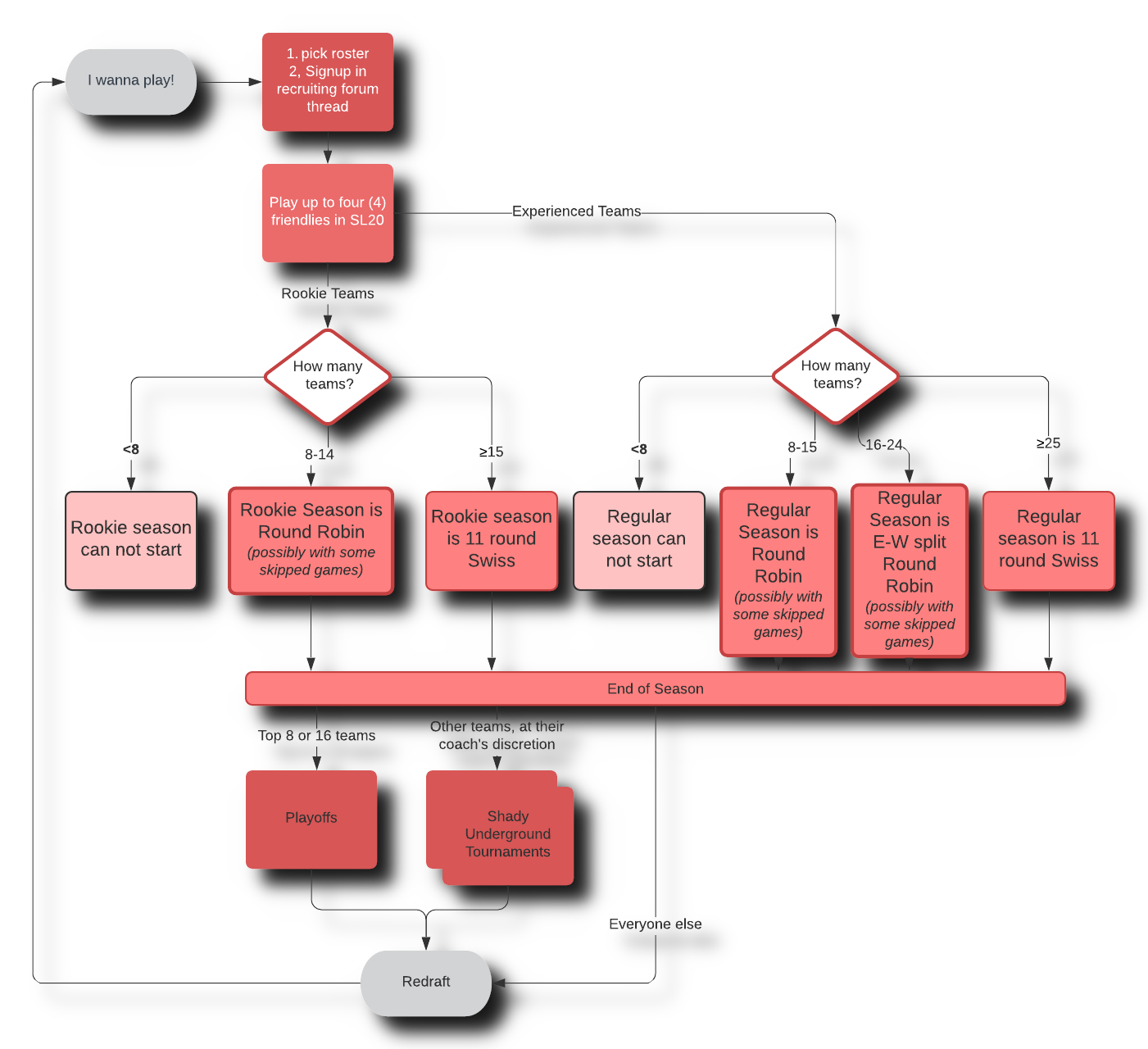 All teams will be permitted to play up to four friendlies after the team is drafted/redrafted but before the season starts. Friendlies are played against teams in the Secret League 2020 Open environment. Please create all teams for SLA20 using the create team link on
Secret League 2020 Open
. (The link above redirects directly to the correct team creation page.) The league will therefore use rules from the Secret League 2020 Open, including it's star players (and absence of Mega Stars.)
SLA20 will start season one with as a Swiss tournament league with rounds every ten days. Round deadline dates will be posted here and on the tournament notes once the season has started.
Scoring is 3 points for a win, 1 for a draw and 0 for a loss. (Forfeit losses may result in -1 points, depending on the circumstance.) However, there are also 'player prizes' awarded at the end of the season (see the Booty tab for more details). Teams will be awarded +1 to their season score for each player prize they possess; however, there will only be 1 of each player prize for the whole league (regardless of no. of divisions).
Further to this, there will also be items of 'lost treasure' that can be uncovered during the course of a season (again, details can be found in the Booty tab). There will be one of these per division and any team that possesses a lost treasure at the end of the season will be awarded +2 to their season score.
The league divisional structure will be somewhat flexible and will be tailored to suit the number of teams that have applied for each season. I will aim to strike the best balance I can between high/low-TV divisions and East/West Coast divisions, depending on the population of returning and new teams.
The first season will culminate with an elimination playoff tournament to determine the winners of the season. It is possible that teams who don't make the playoffs will be approached to participate in shady, underground tournaments. At the conclusion of all those tournaments,
Lost Treasures:
As mentioned above, each division in SLA will contain an item of lost lustrian treasure, which can be uncovered and adds +2 to the season score of the teams that end up holding them at the end of the season. There are some other rules that are specific to these treasures:
Lost treasures (once uncovered) can be stolen during the course of the season. If any team beats another team that is holding a lost treasure and scores either 2 more TDs or 2 more casualties than them, then they steal the treasure (note that this is only active during the league season, not during the final playoff tournament).

If the team that wins the league (i.e. the crown) is also the current holder of a lost treasure, then that team has the option to keep that treasure permanently. However, to do this, they must voyage back to their homeland to return the treasure. This means that the team cannot play in the following season and their coach must choose (or create) a different team to play. Note that this is completely optional.

In a similar way, if a team starts a season with a lost treasure and manages to hold it for the whole season without losing it, they will also have the same option to keep it permanenty, as described above.

Any treasures that are won permanently will be replaced with new ones.

There can never be more than 1 lost treasure in the same division (or it will rip a hole in the spacetime continuum and the unwashed hordes of chaos will pour forth).

League Rules:
Only 1 team of each roster will be accepted (after all, there are ~120 different teams to choose from!). This may be reviewed at a later date, if we end up with a large number of coaches.

Standard rosters will be welcome, however at least two thirds of the teams must be Secret League teams (it is supposed to be a Secret League league!). The League Commishioner may refuse entry to standard rosters if we have too many.

Turn time limit will be 4 minutes (FUMBBL standard).

Concessions are allowed, however if a team concedes then, along with the usual penalties, the opposing team will also steal any 'lost treasures' that the conceding team had.

Both teams will be given 50k extra at the start of each game, which they can use to purchase a special play card. (Once FUMBBL supports this features.)

Right Stuff prevents tackle on blocks will be enabled.

All games are expected to be competitive - players are expected to play to win. This includes pre-inter-season 'friendlies'. Any uncompetitive pre-game agreements or behavior in-game (such as farming of spps or player stats) will be frowned upon and may attract sanctions, as appropriate. (2018-11-09)

At the end of the season, after points from lost treasures and player prizes have been taken into account, ties will be broken by 1-on-1 result between the two teams; then TD diff; then cas diff; TD scored; cas scored; and finally by a coin toss, if all else fails (v unlikely). (2018-11-09)

(Holiday Rule) A team which has played three (3) consecutive seasons is permitted to take a one (1) season holiday, allowing the coach to play a different team. During the holiday, the roster is reserved in the league. Upon returning, three additional consecutive seasons would be required before they can take another holiday. (2020-03-26)

Added: razmus 17 July 2020, based on league PM from JellyBelly 26 March 2020 "SLA Season 9 - the Slaanesh are taking over:".



How to join SLA20:
The league is open to all coaches that are able to play games in American-timezone evenings (approx. GMT-9 to GMT-4). In terms of bbtime, that is approx. 00:00 to 07:00.

To sign up, please respond to the recruiting thread in the forum, stating the roster you would like to play and your preference of East/West coast. Roster assignment will be on a first-come, first-served basis, subject to the rules above.

Once your choice of roster is approved, you will need to create a new team using the Secret League ruleset (there is a link at the top of this page) and apply it to this group. I will make an effort to include as many coaches as possible when a new season starts; however, if you apply mid-season, I will add you to the waiting list for if/when a place becomes available.

We also have a league Discord channel, which can be accessed at the following link. Feel free to drop in for a chat, or if you have any questions:
Forfeit Policy:
Momentum is very important to the health/credibility of the league and round deadlines will be actively enforced, with foreits where necessary. Extensions will be given for games where both coaches have been communicating and a firm time/date can be arranged for the game. If a game is forfeitted and one coach can show that they have made an effort to contact their opponent, then they will be awarded 3 points for a 'forfeit win'.
The league will be operating a 3-strikes-and-you're-out policy regarding forfeits - if you forfeit 3 games in any given season then you will be kicked from the current season.
(Note that in the first 2 seasons in the older environment, JellyBelly took a harder line against 'droppers'. If it is obvious that someone has dropped and they aren't responding to pms, then I also won't wait until that third strike ...)
Ever since Marco Columbo returned from his expedition of discovery to the New World, rumors have spread like wildfire of the forgotten continent across the Great Ocean. Daring explorers have ventured there in search of lost riches. Many have not returned, but those who did brought back enticing tales of lost civilizations, ancient cities and temples hidden deep in the Lustrian jungle, which contain ancient treasures beyond mortal imagining. Legends abound also of unusual races and creatures that can be found there – of cities full of deadly lizardmen; packs of ferocious dinosaurs; and primitive tribes of amazons and cannibal halflings that reside in the depths of the jungle.

One tale in particular that has intrigued Empire historians are reported discoveries of Blood Bowl stadiums that have been found in these lost cities. It had previously been thought that the venerable sport had been invented by warring Dwarves and Orc tribes in the Old World, several centuries ago. However, if true, this discovery would suggest that the origins of Blood Bowl go back much further, perhaps even to the early days of the Slann and the Old Ones.

To settle the mystery once and for all, Emperor Karl Franz dispatched his most intrepid explorer, Dr. Averland Jones, to the New World to find out. For many months, Averl scoured the hostile Lustrian jungle, surviving only on insects and having no choice but to kill many ferocious Lizardmen and dinosaurs with nothing but his bare hands and trusty whip. Eventually, exhausted by his trials, he stumbled across an ancient, ruined stronghold, concealed in a lost valley at the base of the Spine of Sotek mountains. On venturing into the stronghold, he discovered that it was home to a legion of undead Rasetra, who quickly apprehended him and brought him before their leader - a huge, powerful Slann Necromancer named Sloss-tti.

As he was awaiting his fate in the great Slann's throne room, Averl was sure he was going to die. However, to his surprise, Sloss-tti offed him a bargain. In exchange for his life, Sloss-tti demanded that Averl return to the Old World to spread news of a new Blood Bowl league that he was preparing to launch. The victors would be declared the greatest team in the Warhammer World and their coach would be worthy to wear the Crown of the New World – an ancient treasure that had been handed down through generations of Slann for centuries.

And so, that is how the rumors began. Now, Blood Bowl teams from all corners of the world – from the Empire and the Skaven underworld, to the remote reaches of Nippon, Ind and the Chaos Wastes in the north – are travelling to Lustria to compete in Sloss-tti's league, for timeless glory and ancient treasure.

Do you have what it takes to defeat them all and stake a claim to the Crown?