Join this group if you like the
Kingston Kruelty's
team bio, or want to contribute to the information available in this group.
Join this fan page with one of your human teams, and send me a PM if you want to make any comments or submit articles. I'll list all comments and quotes on this page or the tournament page right beside. ---->
Keep watching the page for any of my articles on tactics, strategy, or custom artwork and stories that revolve around the Kingston Kruelty and human teams in general on FUMBBL.
Welcome! Thanks for looking.
"Speed, Tackle, Mighty Blow and Guard. These are the main human weapons. These skills give them their strength. Run around slow-strong teams at a key time. Hold center field and smash slowly forward through everything else. Win 2-1 or 1-0. This is what I have learned."

_M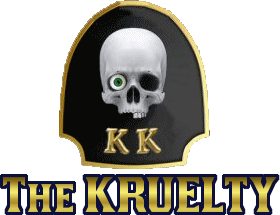 Thier Quotes:
- "The Human League Premiership was my idea. RESPECT!" (not really what he said, but he could have)

- "Now THAT is a logo, right there. BOOM!" (Barring real quotes, I'll keep making this stuff up)

- "My team likes to keep in shape playing Power Ball. The head of a chaos warrior makes a good ball."

- "Nobody said the Premiership was going to be easy. Luckily, Brutus had alot of sons."

- "Sup? How come you dudes don't have dodge on all of your blitzers?"

- "never give up, never surrender" and "even a human named flutter shy can whoop up on you" (real quote!)

- "Kalimar told me if you get an ogre to negative 6 agility he teleports instead of dodging. Almost there!"

- "..those kingston boys are cruel but i coach meaner, and we will catch them in games played soon." (real quote!)

- "Teams like 'Kingston Kruelty' with their fluff brighten my Blackbox!" (real one)

- "The_Murker is a Leg-end in many ways and the Kingston Kruelty are awesome" (real one, swear!)

-'The Kingston Kruelty inspired me to play Humans in the box'
~