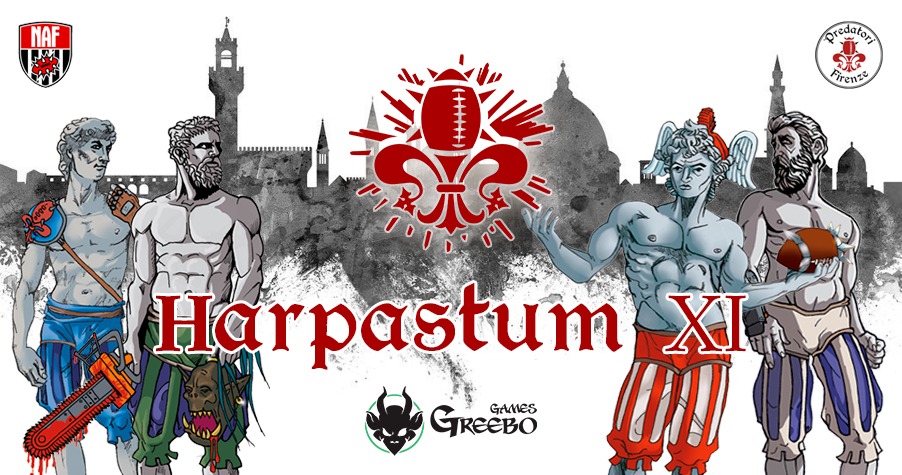 20 - 21 February 2021
NAF LIVE! event
2 days • 6 matches • 15h start time
REGISTRATIONS OPEN
until 19th Feb 23h59 server time
Coaches must be online 15m before round 1 on the first day of the tournament.
Players who have not been online during this period may not be drawn in the event.
This is an important part of registration!
admins: Stimme • Neilwat • Stingray
Predatori Firenze
– one of the biggest and most active Blood Bowl clubs in Italy, headquartered in Florence but active all over Tuscany – would like to invite you all to the upcoming eleventh edition of our yearly tournament, the
HARPASTUM
!
This year's edition will take place online and we've decided to make it as open and as global as possible by hosting it on FUMBBL, together with the NAF team.
Our sponsor and partner will be none other that renowned miniatures purveyor Greebo Games: the winners of the various prizes will be able to spend a certain quantity of online credit on their store in order to get whatever they see fit for free.
Our Discord channel will be used as the main communication and tournament support tool, in order to make it as easy as possible for players, referees and tournament organizers to talk to each other. You can join it at the following link:
https://discord.gg/2VyhTQ3mWv
For further information, here are the links to our Facebook page and to our club's forum:
https://www.facebook.com/bloodbowlfirenze
https://bloodbowlfirenze.forumattivo.it/
Harpastum XI will use Blood Bowl 2016 rules, Spikes released until September 2020 and NAF CRP.
TEAM BUILDING:
1100K*
*note: due to technical reasons when you create a team you'll have 1200k available. Your limit is the 1100k mentioned above.
Includes:
• A minimum of 11 players and a maximum of 16 are to be rostered.
• 0-8 Re-Rolls;
• Assistant coaches;
• Cheerleaders;
• 0-1 Apothecary;
• 0-9 Fan Factor;
•
INDUCEMENTS
. The cost will be as following and will count for all 6 games:
◦ 0-2 Bloodweiser Kegs for 50k each;
◦ 0-3 Bribes for 100k each, for Goblins and Snotlings 50k each;
◦ 0-1 Master chef for 300k, for Halflings 100k;
◦ 0-1 Rioutous Rookies for 100k - Ogre and Snotlings;
◦ Star Players:
- No star players for tiers 1-3,
- 0-1 star players for tier 4 teams after 11 players;
- 0-2 star players for tier 5 teams after 11 players.
TIERS & EXTRA SKILLS
Tiers 2-5 can have 1 player with two skills (only single skills, not doubles)
TIER 1
6 normal skills
or
4 normal and 1 double skill
Amazon • Chaos Dwarf • Dwarf • Dark Elf • Lizardmen • Orc • Skaven • Wood Elf • Undead
TIER 2
8 normal skills
or
6 normal and 1 double skill
or
4 normal and 2 double skills
Bretonnian • Elven Union • High Elf • Necromantic • Norse
Tier 3
9 normal skills
or
7 normal and 1 double skill
or
5 normal and 2 double skills
Chaos • Chaos Renegades • Human • Tomb King • Nurgle • Slann • Old World Alliance • Khorne
Tier 4
9 normal skills
or
7 normal and 1 double skill
or
5 normal and 2 double skills
1 Star Player Allowed
Vampire • Underworld
Tier 5
9 normal skills
or
7 normal and 1 double skill
or
4 normal and 3 double skills
2 Star Players Allowed
Snotling • Halfling • Goblin • Ogre
Piling On as per BB2016 - RR required
SCORING
•
Win
+3 points;
•
Draw
+1 point;
•
Loss
+0 points;
•
Concession
-1 points.
TIE BREAKERS
only cas and touchdowns that would give spps count towards tie breakers
1) NET TDS + NET CAS
2) Opponent's schedule (top 3 only)
3) Most TD's
4) Most CAS
5) Random
PRIZES
Winner: 100€
Most Casualties: 50€
Most Touchdowns: 50€
For purchases on the
Greebo
site.
OTHER RULES
• No concessions are allowed during a match. Penalty may result in exclusion from the tournament and no registration accepted for the next NAF event;
• Games will be forfeited promptly to begin new rounds, please keep track of time;
• If one player benefits from inducements not listed on the team's "bio" or irregular use of Timeout with direct influence on the score, a concession might be applied;
• Games will count towards NAF ranking as Online NAF games on thenaf.net. Forfeits and games against non NAF members are not recorded;
• Please contact the admins via the channel on Discord or pm if you need help.
FAIRPLAY
• Be cordial on the chat and pm towards your opponent and audience. Any use of offensive laguage towards your opponent regarding racial, political or religious content might result in exclusion from the tournament and 1 year ban from NAF events.
• We recommend avoiding Timeouts. However, if you use it, you are not allowed to do it without a first "transgression" and consequent first warning on the chat.
Ex: my opponent exceeds the time one turn, I warn him I'll timeout next time.
You can only use a timeout if the other opponent is playing their turn, if they give an indication that they need 5 minutes or similar to deal with a real life event then they can't be timed out for this.
server time as reference; one timezone "to serve them all"
FRIDAY 19th
End of registrations at 23h59
SATURDAY 20th
Round 1 - 15h
Round 2 - 17h30
Round 3 - 20h
SUNDAY 21st
Round 4 - 15h
Round 5 - 17h30
Round 6 - 20h
Disclamer:
Coaches must be online 15m before round 1 on the first day of the tournament. Players who have not been online during this period may not be drawn in the event. This is an important part of registration!
Team Creation Process
Team Creation Links:
create team for this event

Tournament Signup Links:
Sign up team
Add you NAF name and NAF number
(This tournament is open to all, so please join us even if not a member)
to your team bio and include any inducements. To add details to your bio, click the "Add Bio / Edit Bio" (Red Circle) link on your team page.
It's easy to add these details.

To add you skills, clink the "Team Options" (Red Circle) link on your team page.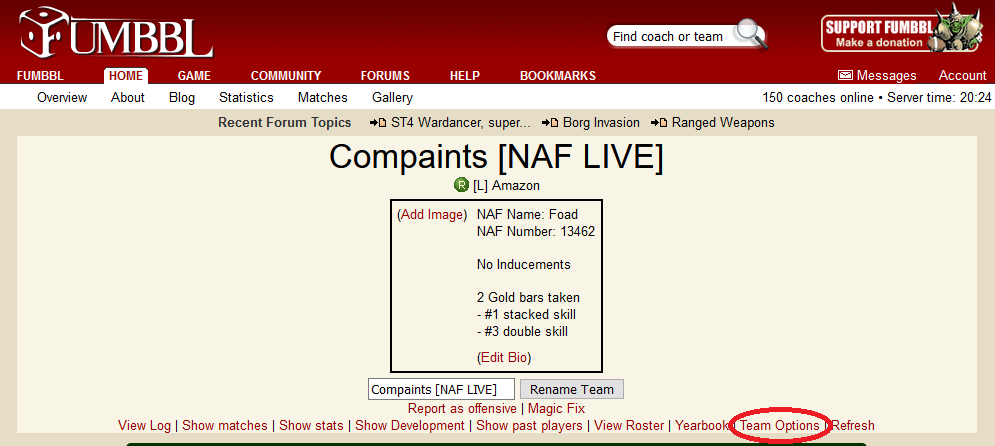 Wait for the team name to load, and then click "Skill Settings" (Red Circle)

Then you can select you skills. If you aren't suppposed to have a skill due to the ruleset, just choose "No Skill" on an unimportant player. The FUMBBL ruleset is set up to deal with the complexities of Sunday's event, in your Saturday applications, you will need few of the boxes.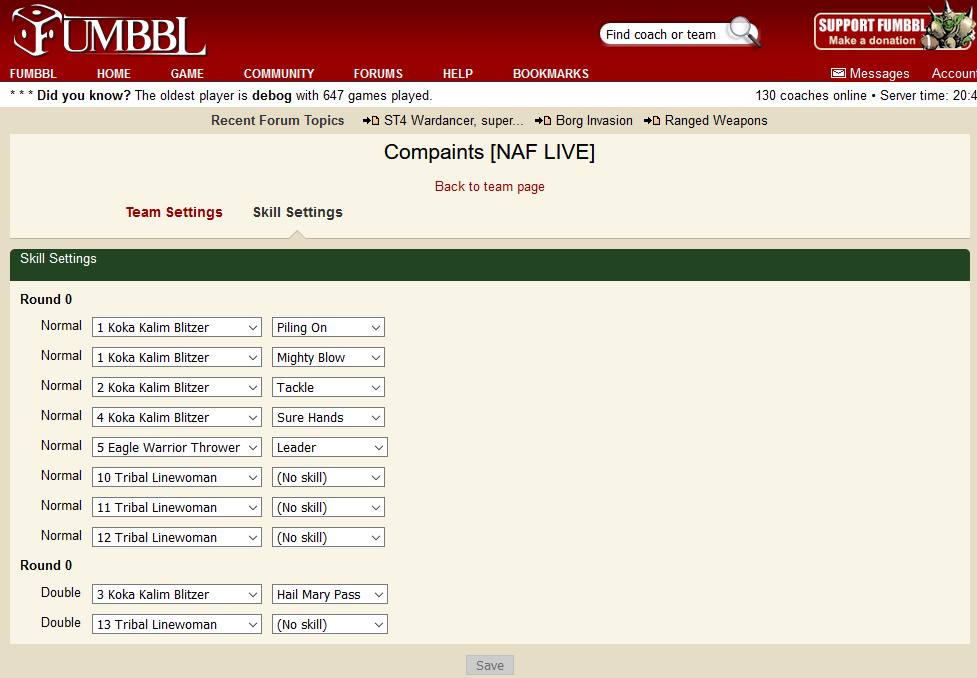 After that click on the group that you are joining.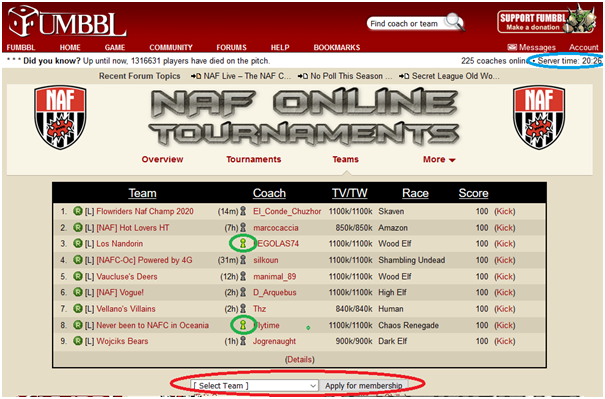 Then you can join the tournament by clicking the "Apply for Membership" option (Red Circle). Your team wont show up straight away as it will need to be checked.
The last thing to do is to check the time the tournament starts in Server Time (Blue Circle) and be on the site 20 miniutes before the tournament starts. Not everyone is on discord and the way we check who is here and who is sleeping in is by site activity (Green Circle). If the tournament is ready to start and you are not active on the site, we may need to start without you.
*****
-
Message from 'goo
As the Covid-19 pandemic continues, we are noting increasing numbers of NAF tournaments are being postponed or cancelled. Health and well-being comes first, and we support Tournament Organisers talking whatever steps they deem necessary with their events to keep people safe.
As we lose these tournaments from the calendar, members are asking us if we can fill the gap with increased Online NAF activity; either via TOs simply holding their events online, or via the NAF providing more tournaments for you to participate in. The former presents us with non-trivial administration, technical and practical issues, so starting on March 28, we will be running a number of 'NAF Live' tournaments on FUMBBL for an indefinite amount of time.
We will be reviewing the format and frequency of these tournaments as we go along, but to begin with, these tournaments aim to recreate the real life tournament feeling as best we can, and will run in parallel with existing Online NAF events. Further details:
- Tournaments will comprise 3-6 games of Swiss over 1-2 weekend days (Sat / Sun).
- Participants will be expected to play up to 3 games in a day according to a set, timed schedule. e.g. Game 1: 15:00, Game 2: 17h30:30, etc.
- Tournaments will take place in European and Americas time zones. All NAF members may participate, as per usual for Online NAF.
- Rulesets will be taken from postponed tournaments with clear and well written rulespacks, accessible via the NAF site. These rulespacks should be easily implemented on FUMBBL, so tournaments with heavy or unique, integral house-rules should not apply.
Following the successes of the previous NAF Live! events, our sixth event event will feature the ruleset from teh Danish Open, but if there is any sepcific ruleset that you would like to see recreated online, please contact Purplegoo via the NAF website. You should also make contact if you have a good working knowledge of FUMBBL and would like to assist in administering these temporary events for a short time, as with more tournaments comes more work for our team. Please assist if you can!
Many thanks, and stay safe.
Phil / Purplegoo.