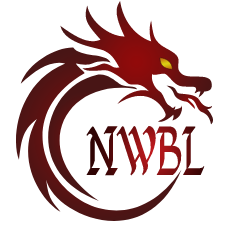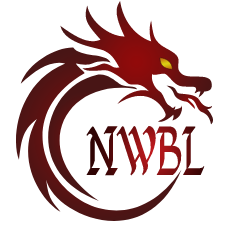 ***THIS BEGINS THE PREMIER LEAGUE SECTION***
Cheddah League (Premier)

Pos.
Club
TD△
Cas△
Pts.
# 1
Cleveland
5
7
15
# 2
Xochitepec
3
2
11
# 3
Ulthuan Quakes
1
01
10
# 4 cas△
Gruêmio
-1
3
8
# 5
Smith Wessen
-1
-13
8
# 6 cas△
Deportivo
-2
6
7
# 7
Flatwood
-2
-9
7
# 8
Mazacotes
-1
-1
3
***THIS ENDS THE PREMIER LEAGUE***
***THIS BEGINS THE CHAMPIONS LEAGUE SECTION***
Silver League (Champions)

Pos.
Club
TD△
Cas△
Pts.
# 1
Quick Die-Die
2
-10
14
# 2 h2h
Coal Butte
3
9
12
# 3
Tractor Club
2
12
12
# 4
Purple Devils
2
-9
10
# 5 h2h
Ottawa South
-3
8
8
# 6 h2h
CarnageScales
-1
-2
8
# 7
Fangcouver
-2
-6
8
# 8
Alabaster
-3
-2
3
***THIS ENDS THE CHAMPIONS LEAGUE
***THIS BEGINS THE MUD LEAGUE SECTION***
Bronze League (League One)

Pos.
Club
TD△
Cas△
Pts.
# 1 td△
Cascade
8
2
12
# 2 cas△
Old Aggies
5
7
12
# 3
Consiglieres
5
-1
12
# 4
Mihnesota
3
4
10
# 5
Chicago DFFC
0
-0
8
# 6 td△
London
-2
-1
6
# 7
Dandy Town
-5
-5
6
# 8
Real Empire
-14
-6
0
# 1
Charm City
6
-4
15
# 2 h2h
Beachtown
3
9
14
# 3
Austin FC
31
-5
14
# 4
Half-life
3
10
12
# 5
AsteBorx
-2
5
7
# 6
Charlotte FC
-2
-10
4
# 7
BlorcRaiders
-7
-3
2
# 8
Druchii 306
-4
-2
1
***THIS ENDS THE MUD LEAGUE***
***THIS IS THE CURRENT RACES***

Amazon ~

Black Orc x2

~ Chaos Chosen ~ Chaos Dwarf
Chaos Renegade ~

Dark Elf x2

~ Dwarf ~ Elven Union
Goblin ~ Halfling ~ High Elf ~

Human x2


Imperial Nobility ~

Lizardmen x2

~ Necromantic Horror


Norse x2

~ Ogre ~ Old World Alliance ~

Orc x2


Shambling Undead ~

Skaven x2

~ Tomb Kings
Underworld Denizens ~ Vampire ~ Wood Elf
Races not currently represented
Khorne ~ Nurgle ~ Snotling
***THIS IS THE HYPERLEMUR STATS***
Waagh walked into the dark crowded pub after an 0-3 start to another blood bowl season. Smoke filled the room which was good because no one could tell if his eyes were red because of the sorrow of another pointless season or the smoke in the air. The Goblin bellied up to the bar next to a rather irritated looking dwarf. Only then did he realize that this was the famous Bozwoth the Brave! The dwarf that only two weeks ago had single handedly destroyed the rest of his team causing Waagh to have to hire three goblins and a troll off the street for the debacle they had suffered today.

"Finally lose today? Serves you right after what you did to me" sniggered the grot vaguely in the dwarfs direction.

"HRPFH." scoffed the dwarf "We haven't lost more than 2 games in the last eight season. We won today 3-0 against some ungodly mix of your lot and some skaven players"

"Then why the long face? You should be celebrating! Next one's on me." He flicked a coin at the elf tending the bar who deftly caught the coin behind his back and smoothly pocketed it.

"Celebrate!? What for!? The scrubs we played today didn't stand a chance. They rarely stand a chance. We dwarves are the best there is and everyone knows it. I am tired of playing against your ilk. I want a challenge!" Behind the bar the elf perked up his ears and raised his eyebrows almost audibly.

Waggh shook his head in agreement. "It would be nice not to feel like we have been thrown against a brick wall every game and get to play more teams around our same skill level"

The elf strode over gracefully both Waagh and Bozworth couldn't help but look upon the creature's angelic face as he began to speak. "Do you two mean to tell me that you play in the same division?"

"Division? No but we are in the same conference; we play one another at least once every season. I do have dark elves in my division though. I have to play tem twice and we always receive a proper thrashing from them too" sputtered the Goblin

"Aye" agreed the dwarf, "and we have a group of amazons in ours. We help them make sure they never have more players than they need. No fun playing them twice a season"

"I'm confused" sang the elf. If you aren't in the same division how do you play one another at all? And why would you be playing any team twice?"

"Sometimes three times if two teams in a division make playoffs" spouted the goblin.

"This makes very little sense to me. This is how blood bowl works in the new world? You two share a pitch? And why would two teams from the same division have to "play off" that's usually reserved for teams that are hoping to be promoted or hoping to avoid relegation no?"

The dwarf and goblin looked at one another confusedly then back at the elf.

"Let me tell you boys how blood bowl works everywhere besides Americol"
***THIS IS THE TOGGLES SECTION***
***THIS IS THE STRUCTURE SECTION***
NWFL is a Premiership. The tiers will be named Gold (The premier tier in the league whose champion is the overall league champion), Silver, and Bronze. The number of teams per division, number of divisions, and games played per season will be flexible depending on the number of participants. There will be the number of tiers that it takes to allow all who wish to participate to be included.

This is an America's time zone league and coaches that participate must be able to schedule from 00:00 to 05:00 server time. If you cannot commit to playing at these times we respectfully ask that you do not participate in this league.
***THIS IS THE SCORING SECTION***
In order to determine placement into tiers, seeding for playoffs, and promotion and relegation League Points will be used to score each team's season and will be awarded as follows.

Winning a game: 3 league points
Draw game: 1 league point
Ties will be broken using first head-to-head, followed by touchdown differential, followed by casualty differential.

FOR SEASON 1 - we are in season 0
Ties will be broken using first, Head to head record, then touchdown differential, then by casualty differential, then by whiskey sent to fitz (I'M SERIOUS!), then coinflip if you buggers don't send me anything.
***THIS IS THE PLAYOFFS SECTION***
At the end of the regular season the team in each tier with the most points is the tier champion. Champions & runner-ups will move up and be promoted into the tier directly above.

This means the top two Bronze will move into Silver and the top two Silver teams will move to gold.
Conversely, the bottom two teams in a tier will be relegated or moved into the tier directly below. The last two finishers of Gold move into silver and the last two finishers of silver move into bronze. The same will hold true of any other tiers that may arise in the future.


FA CUP - All teams/all divisions that want to participate can (giant killing bonus possible?) - (possible auto promotion / avoid relegation for a winner?) in that case each division gets 2 promotions and possible 3/4 playoff
EFL Cup - Top two divisions
FA Trophy - 3rd/4th divisions
***THIS IS THE REDRAFTING SECTION***
In addition to the 1000k GP that every team receives for redrafting, teams will receive an additional 20k for each game played, 20k for each game won, and 10k for each game ending in a draw.

As per the rulebook tier champions will get an additional 100k GP for redrafting, the runner up will receive an additional 60k GP and third place, will receive and additional 30k GP.

We will use expensive mistakes as outlined in the rulebook.

To remain as close to the rulebook as possible we will set a draft cap of 1300 as suggested in the rulebook. This is subject to change based upon how things go and preference of participants in the future as we become more familiar with the BB2020 ruleset.
***THIS IS THE DROPOUTS SECTION***
We kindly ask that if a coach participates in a season they please honor their commitment and finish any season that they start.

Coaches are not tiered, teams are and so any coach wishing to start a new team will start over in the lowest tier available where all new teams will start.

In an instance that a coach chooses not to participate in a subsequent season their spot will be filled by promoting coaches from the lower tiers. Alternatively, less participation may mean fewer teams are needed in a given tier meaning more than one team may be relegated as needed by the league. Regardless of participation tier champions will ALWAYS be promoted and last place teams will ALWAYS be relegated.
***THIS IS THE SCHEDULING SECTION***
Coaches will have 7 days to schedule their match with the week rolling over at 12:01 Pacific, Thursday morning so as that all games should be played by wednesday night. If a game fails to get played the admins will look at the scheduling PMs to see who if anyone was at fault. At fault coaches will be docked 1 league point while those not at fault will be awarded 3 league points as if they had won the game. In the case of mutual at faultness neither coach will receive any league points.

We ask that you play your games on time but in some circumstances a game cannot be played by the deadline but can be shortly thereafter. It is preferable that teams play the game so if coaches are able to schedule their game no more than 48 hours after the deadline then an extension will be granted. We ask that you contact your opponents early by fumbbl PM to avoid such circumstances.

It is encouraged that you play ahead in your schedule if possible.
***THIS IS THE RACES SECTION***
NWBL will strive to make the league as diverse as possible while still ensuring its members will be able to play a team they will enjoy. Stunties will be allowed into the league as long as we are able to have three tiers worth of teams. Doubles of the same race will only be allowed when the leauge has X number of total teams
***THIS IS THE INDUCEMENTS SECTION***
Any and all available inducements and or star players allowed in the blood bowl second season rulebook also available on fumbbl will be allowed for use.
***THIS IS THE DBAD SECTION***
Sometimes in a league of substantial size all coaches might not get along. It is very sad when things like this happen but don't be a dick. Despite what you may feel about an opponent verbal or written abuse will not be tolerated. Momma said "if you ain't got nothing nice to say then don't say nothing." That said everyone gets tilted from time to time and says things they might not otherwise and so every coach will be afforded one warning. If you feel you have been subject to abuse please screenshot the conversation and send it to an admin. Habitual offenders of DBAD will be asked to leave the league

Conceding is also a dick move. Don't do it. Conceding counts as your warning or if you are already warned you will be asked to leave.

Your first abuse you will be issued a yellow card. Your second you receive a red card and will be asked to leave. In extreme circumstances a coach may be asked to leave without a warning if their transgression is deemed dickish enough and receive a red card on their first offense.

NEW official ruling record 7/6/22 - TIMEOUTS are not part of this league. Do not use that button!
If your opponent is not respecing your time report it and we will send an unladen swallow (African or Euorpean, your choice) with an offical complaint letter instructing them as to the proper gaming etiquette and any suggestions you may have as to their ancestry or heritage.
After listening closely to the elf the goblin sat in silence for a moment. They stared into their drinks with a new realization that this was indeed the blood bowl experience they had been looking for. A chance to play against you equals. A chance to learn and increase your coaching skills and become a better coach. A chance to throw goblins at your opponent and have fun! This is what we have needed in Americol and thus the NWBL was born!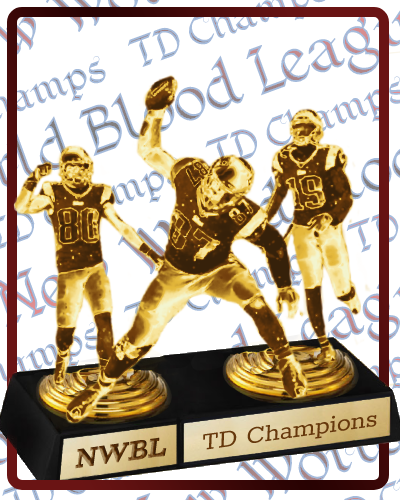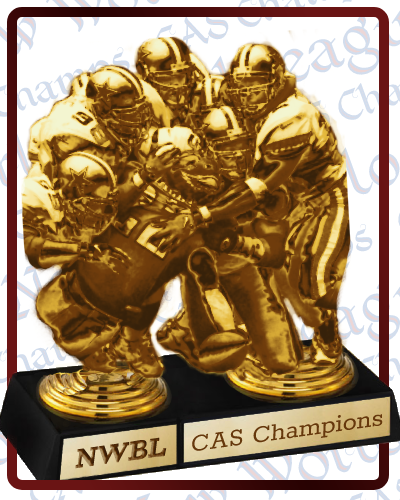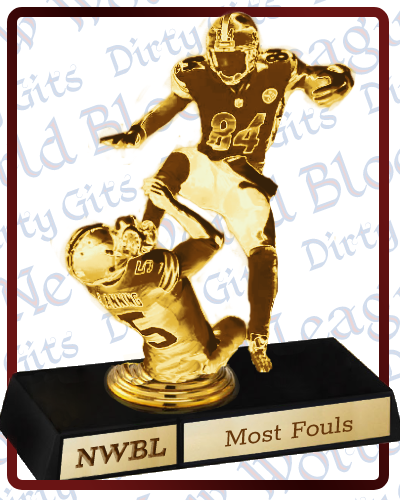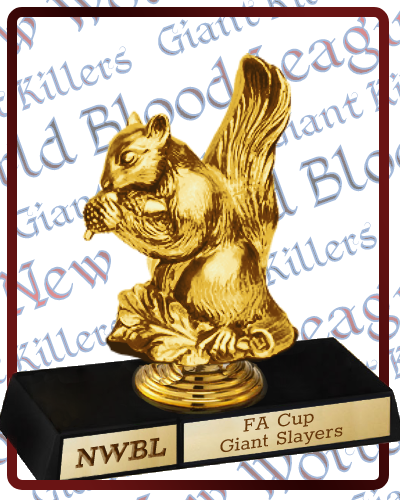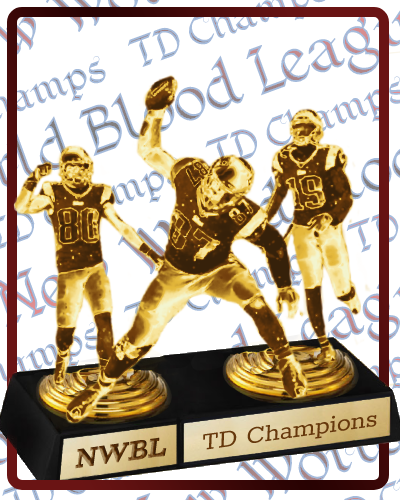 Salsa Ballers
Garcangel
13 Team Touchdowns


Ulhuan Quakes
SavageJ
13 Team Touchdowns


Ulhuan Quakes
SavageJ
13 Team Touchdowns

S3

S4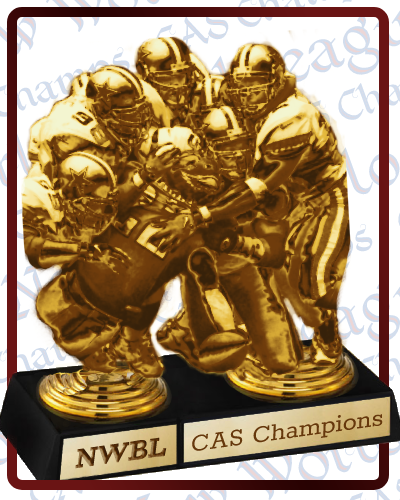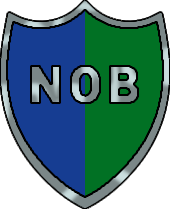 New Old Boyz
Waagh
17 Team Casualties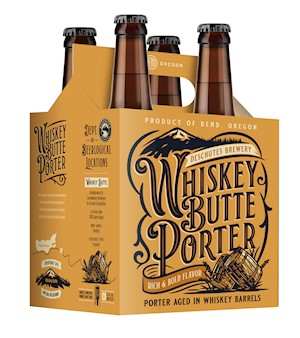 Coal Butte Boozers
Cervus
24 Team Casualties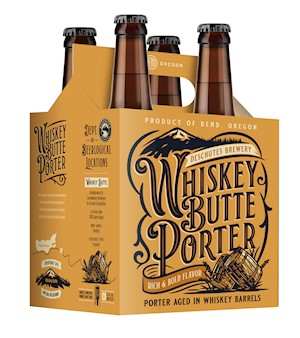 Coal Butte Boozers
Cervus
22 Team Casualties

S3

S4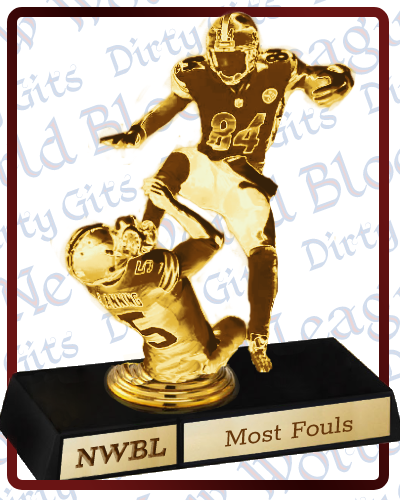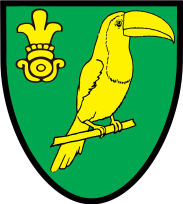 Tucanes de Xochitepec
HyperboLemuR
30 Team Fouls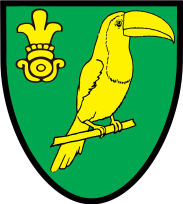 Tucanes de Xochitepec
HyperboLemuR
29 Team Fouls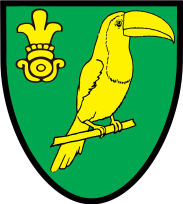 Tucanes de Xochitepec
HyperboLemuR
48 Team Fouls

S3

S4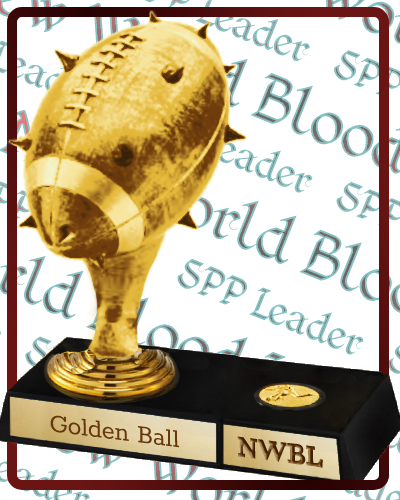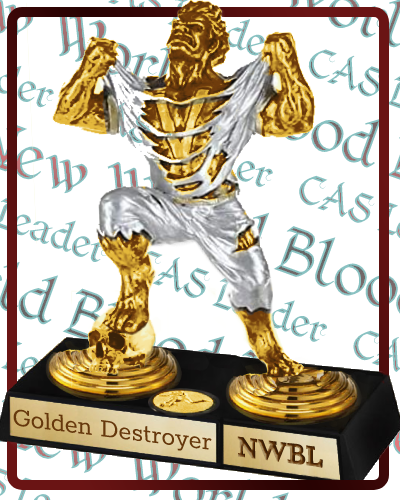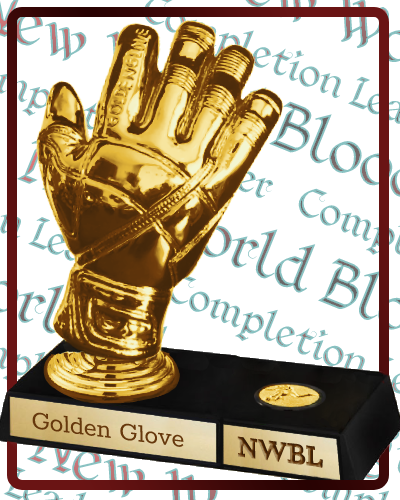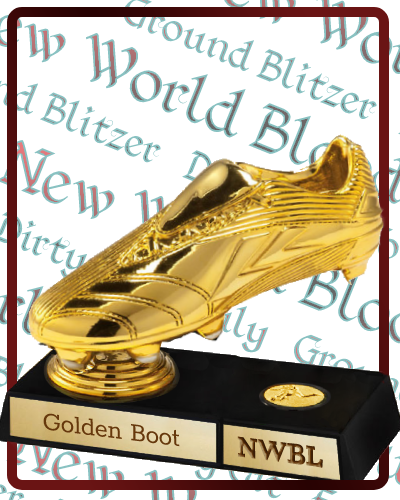 also possible FA Cup Trophy (best FA cup player) ~ EFL Cup Trophy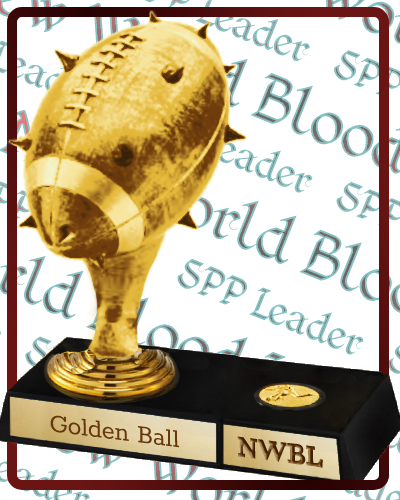 Solomon Gokarran
Salsa Ballers
7 Touchdowns


Joseph Cusmirk
Purple Devils
11 Touchdowns

S3

S4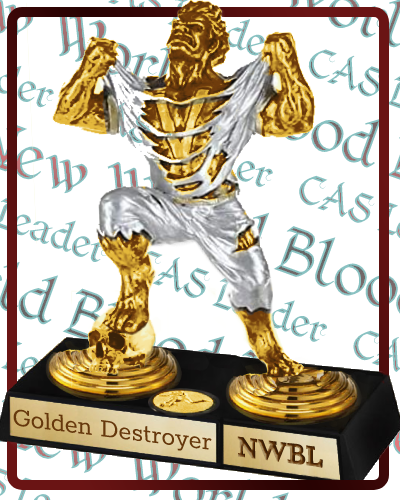 Yoshiaki Aria
BullBlitz Akita
7 Casualties


Rogmesh Flingsnake
Coal Butte Boozers
10 Casualties


Rogmesh Flingsnake
Coal Butte Boozers
10 Casualties

S3

S4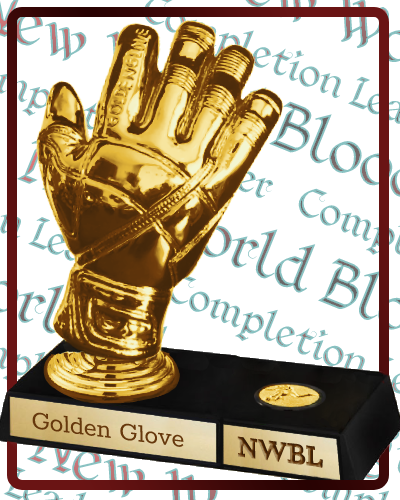 Kadeisha Buchanan
Ratletico Ottawa
9 Completions


wintergreen13
Consiglieres to the rescue
9 Completions

S3

S4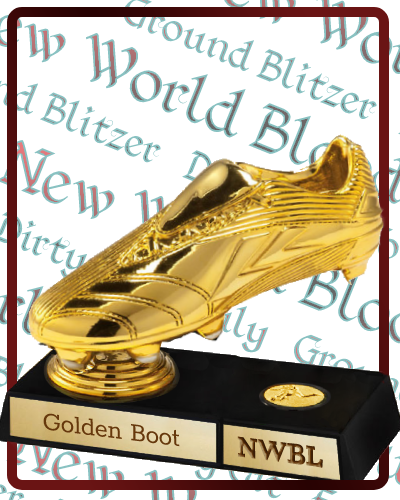 Camila Dakamon
Tucanes de Xochitepec
24 Fouls


Camila Dakamon
Tucanes de Xochitepec
24 Fouls


Camila Dakamon
Tucanes de Xochitepec
43 Fouls

S3

S4
Division
Season 0
Season 1
Season 2
Season 3
Season 4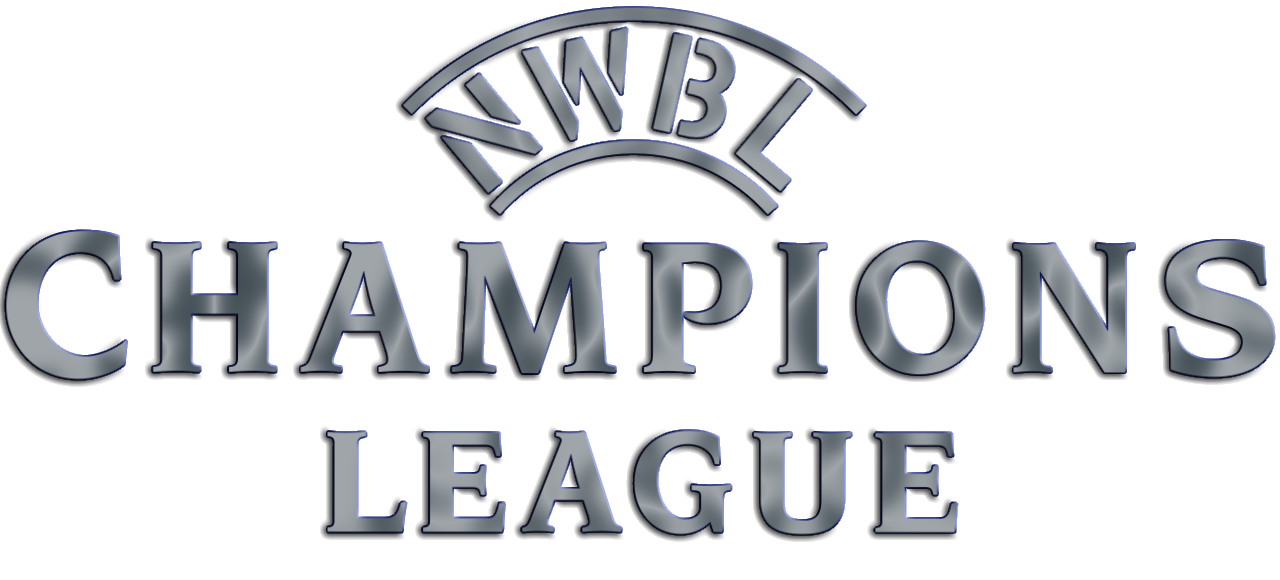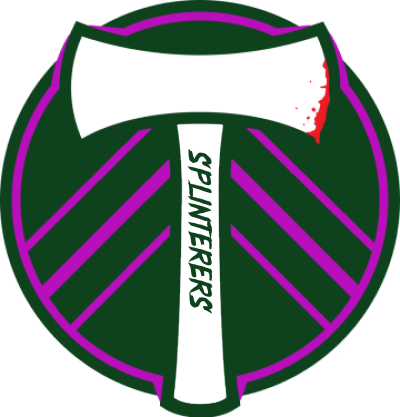 Rotland Splinterers
wintergreen13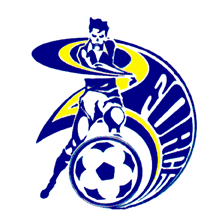 Cleveland Force
captainmalkor


Ulthuan Earthquakes
SavageJ

s3
coach

s4
coach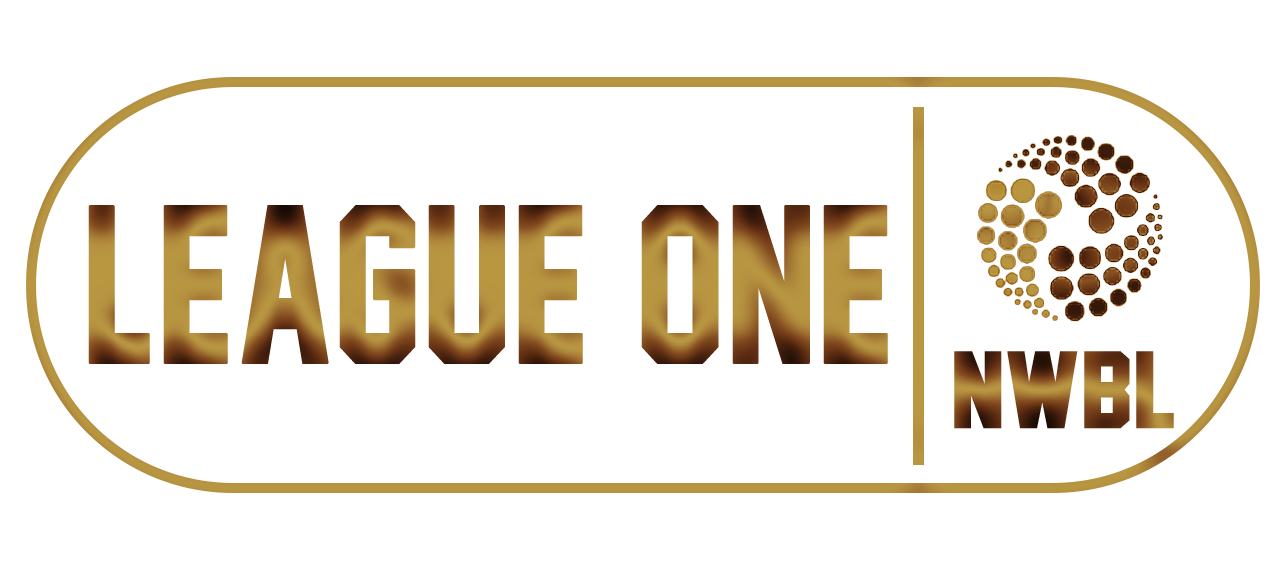 -



Ulthuan Earthquakes
SavageJ


Ottawa South Orcrited
Nelphine

s3
coach

s4
coach
Elimination Tournament Cups and Trophys
f*** all cup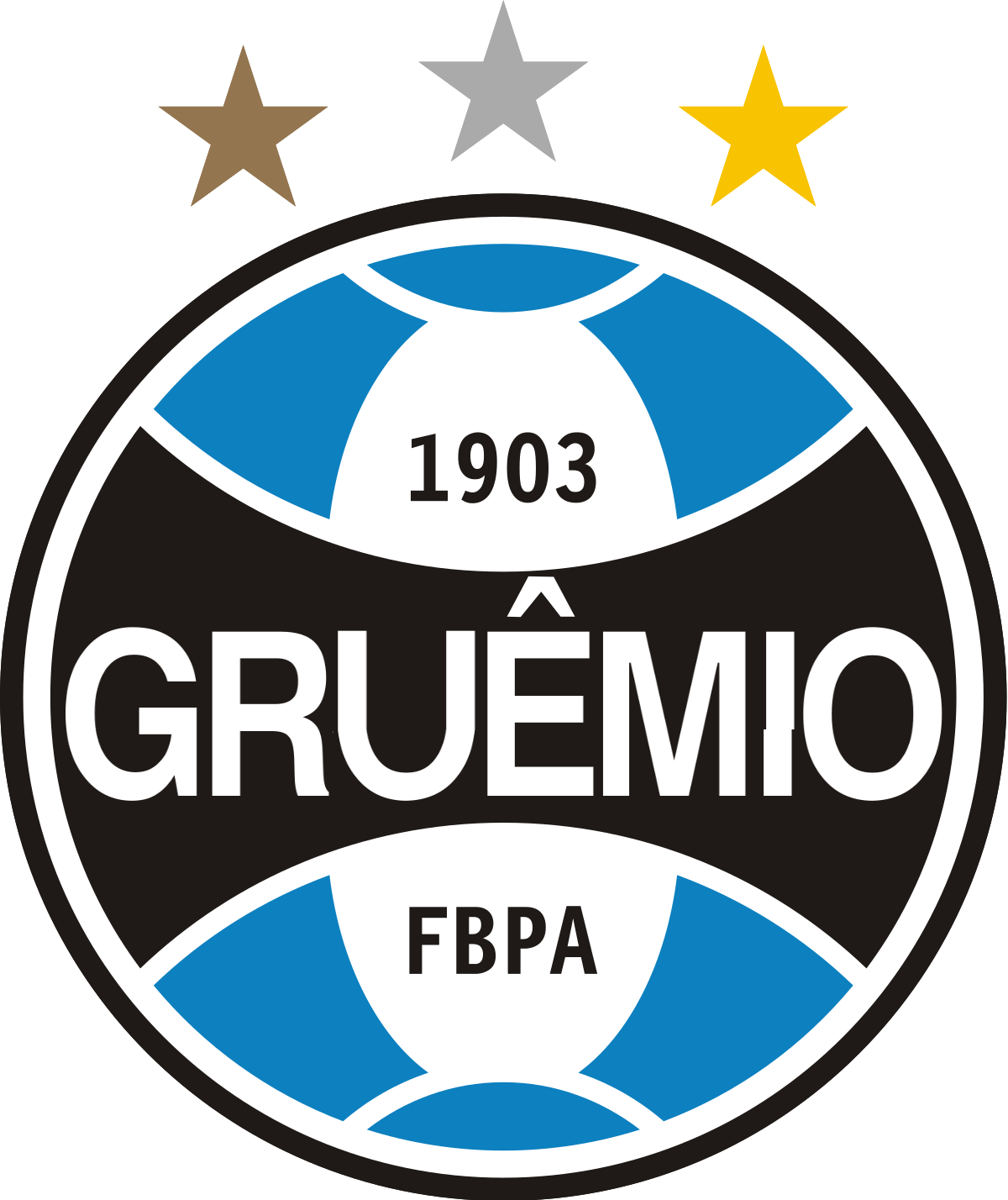 Gruemio
happygrue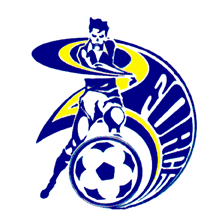 Cleveland Force
captainmalkor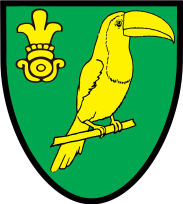 Tucanes de Xochitepec
HyperboLemuR

s3
coach

s4
coach
extremely f** luxurious cup

-
-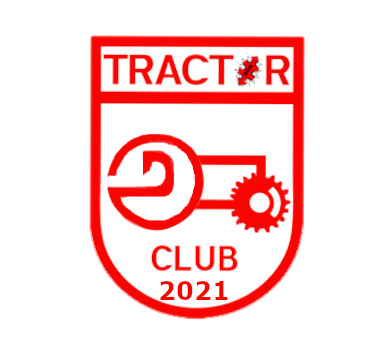 Tractor Club
dashergeaux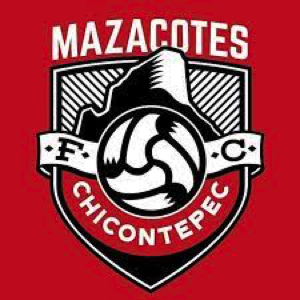 Club Mazacotes de Chicontepec
Gotreklayer

s3
coach

s4
coach
***EXPANSION TEAM COACHES INTERESTED***

carki - nufflinnuffle11 - thekidxp - blackcat