145 KO CUP 69 - 145 anniversary Cup will be recruting soon!!
Deadlines apply!!.
Moderate To Play: deadlines and scheduling apply!! recommended for those with some experience
Check the progress of the current cup
Curent status of the cup 69:
recruiting soon


So what is it
The 145 KO cup is a knockout tournament for 145 league teams with a TV of
1300
or lower.
You can trim the TV of teams above 1300 to make the cup weight


The tournament accommodates 8 teams at a time, the Cup will kick off soon after the end of the 145 Tuna Cup.

How is it different from 145 league?
Its a knockout so if you loose a game you are out


Unlike the 145 League the 145 KO cup has deadlines. You need to play your game within 10/11 days. Dealines alternate between Wednesday and Sundays.


You will need to schedule the game with your opponent at time that you can both make it. Use discord or the site pm system to arrange.

If you are having trouble scheduling the game speak to Koadah or dentface. Please don't sign up unless you can commit to this.
How do I sign up
To sign up your team remember
It has to be either a 145 team (create a team on this page)


Or you can use any league team created using the BB2020 rules (a quick way to check, do the players have a passing stat?) and ask the league commissioner if you can have it transferred.


You must be a 145 coach. You maybe removed you if you are too good.


It has to have a TV below 1300.


Each coach can only apply one team


The team that you enter will be locked into this tournament until you have bee knocked out or you ahve one it. It will not be able to play games outside of the cup . you can play games with that team before the cup kicks off, but it has to be at tv 1000-1300 at the time of the kick off

More details of the Ko cup
If the game is a draw at the end of normal time a single extra half is played with the recever being decided buy a coin toss.

if the game is still tied after that it will go to sudden death penalties (dice roll)


Yadda yadda yadda what do I get when I win?
The prize for winning is this lovely trophy that you can put in the front room never to be touched by anyone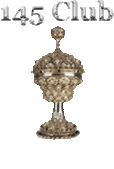 Good luck and have fun, and learn something
Ask for match reviews, advice on inducements and how tackle sretain teams as well as all manner of general help on the
145 discord
Good luck