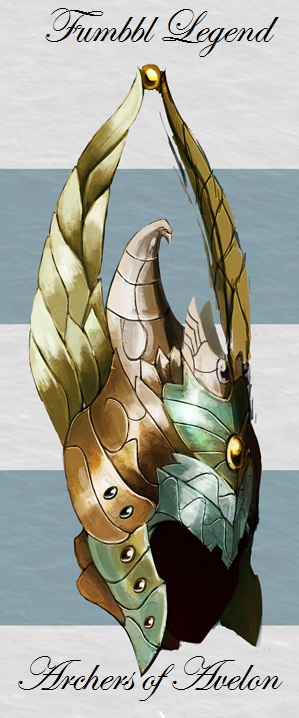 SUBJECT: Official Dossier – Nimue "Kydeth" Sylstina
FOR: Client – Name Confidential
PHYSICAL DESCRIPTION: Race – High Elf, Complexion – Pale, Hair – Blond, Eyes – Hazel, Height – 170 cm, Weight – 62 kg, Age – 143 years
BACKGROUND: Born in the elven port city of Ors Anore from the house Sylstina. Mother Eirina Sylstina and father Odresin Fairanin are successful merchants and the owners of at least 18 Icon Class trading vessels.
STORY: Kydeth was born to Eirina in the first year of the Decade of Tranquility. Her formative years were uneventful as she enjoyed the luxuries of a life brought to her in the holds of her parents' ships arriving weekly from every corner of the world.
However, eventually she began yearning to ride the waves on the ships that came and went. In her forty eighth year she secretly arranged passage on one of her mother's ships bound for the Cathian Islands. Onboard she fell in love with a ship hand named Wyn Valsys. They were married and soon they had a trio of elflings who traveled with them from port to port.
Unfortunately, Wyn was a sailor with a passion for strong drink and a temper to match. One evening, he and Kydeth had a domestic altercation that turned physical and he fell overboard while at sea. There was no moon that night and the ship's crew was unable to find and rescue him.
Several years later, Kydeth met Goren Leodove in the human town of Castle Point. They too were married, and once again Kydeth produced a trio of offspring. Goren was a braggart who took pride in the fact only he had successfully swum the channel between Castle Point and New Bridgeland. Eventually, someone goaded him into proving it. When he tried to duplicate the feat, he drowned before reaching the mainland.
Eighteen years ago, Kydeth was once again living in Ors Anore with her parents and raising two small children. The three from her first marriage were grown and married themselves. Ors Anore is where she met Braern Lorajoen. A couple of years later they married and she has produced a pair of offspring for him.
Braern was the first mate on the trading vessel Magdala. With five children to rear, finances were tight. While Braern was at sea, Nimue took a job as a journeyman line elf for the Ors Anore Crusaders. She took the name of Kydeth to hide her involvement from her family.
It turned out that Kydeth was talented. The crusaders asked her to take a full time position with the team. When Braern returned to port, they decided the income was worth the risk. Two seasons ago she tried out for the Archers of Avelon and has quickly risen in status and ability. The financial success of the Archers brought a measure of financial stability to the family.
At the end of the last season, Kydeth purchased the Magdala and three smaller trading vessels. Mentored by her father Braern has proven to be a wise and steady businessman. He operates the business.
POINTS OF INTEREST: Few members of Kydeth's family know that she is the legendary Archer of Avelon blitzer. She refuses interviews with the media, and on the field she wears a custom made helmet to obscure her features.
With strong family values and commitments at home, the analysis is that she is unlikely to play Blood Bowl much longer. Rather, once she determines that she does not need the game she will retire.
This analysis is strengthened by the fact that she is a devout pacifist. Having been suspected in the death of her first two husbands, she has striven to raise a peaceful façade and put the rumors to rest. Thus far, two players have died on the field at her hands as a natural consequence of the game. She personally paid for the funeral expenses of both individuals and gives generously to the Widow and Orphans Guild.
SCOUTING REPORT: At the time of this writing, this elf has no current weaknesses. In fact, she is the most agile member of the team. Additionally with her ability to leap into a fray she has proven to be a nightmare on defense as she regularly strips the ball free from the opponent. She is also on pace to be the first High Elf Blitzer to log 50 completions.
HOBBIES: As a dedicated mother with little free time, Kydeth came to the Archers with no hobbies to speak of. She has since picked up the bow but she shows no naturally ability or flare. Rather than shooting to kill, she shoots as a stress relief. She is an elf so most shots wind up near the bulls eye, but the grouping is sloppy and shows a lack of dedication.
When she is not with the team she travels with her younger children to visit her three grandchildren produced from the offspring of her first marriage.
END DOSSIER
--------------
Kydeth reached Legend Status after 41 games.
Game #88 - Niño IV, Looney of the goblin team Gersul ended the life of both Kydethe and fellow Archer legend Revwe Larereta,
Active Blitzer Records Held at Time of Death:
#1 top scorer
#1 top passer
#1 most rushing yards
2nd most valuable player
2nd top star
3rd most yards passing
All Time Blitzer Records Held at Time of Death:
#1 top passer of all time - 56 Completions
2nd most rushing yards of all time - 559 Yards
3rd top star blitzer of all time - 263 Spp
3rd most yards passing of all time - 94 Yards
4th top scorer of all time - 39 TDs
5th most valuable player - 12 MVPs
12th most games played - 88 Games
All Time High Elf Records at Time of Death:
10th Most Valuable Player of All Time
11th Top Star Player