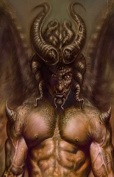 Horns
Block
+AG
Dodge
Sure Hands
Previous name: Franz Ulrik

He was a dancer, a tumbler, a juggler and world class entertainer. Now he flies around half naked planting his Demonic seeds into the female population. A tragedy that he has more things in common with an Incubus than the good man he once was.

Game #30: Ran a touchdown in the first half and then threw a touchdown pass late in the second half.

Game #33: Couldn't pick up the ball with sure hands and a Ghoul stole it in front of his face and scored. He would make up for it late in the first half by scoring on his own but he cost us the win.