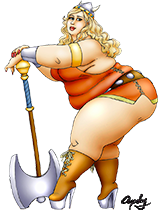 Still rookies with a mere 250ish games,
Sven Frenzysco 69ers
, coached by
Balle2000
are trying to catch up with the mighty Berserkers. (As far as
kool
team logos go, they already have).
Now also
Vikings Dusk
have returned from the great beyond, due to the 'Save Borak' campaign, though yet to play any games. With a winning record to be proud of.