ramchop



Joined: Oct 12, 2013


| | |
| --- | --- |
| &nbsp Posted: Jan 08, 2018 - 07:26 | |
---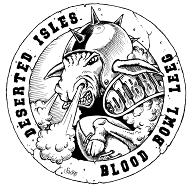 The Deserted Isles Blood Bowl Leeg is a weekly league for New Zealand based coaches. Coaches from elsewhere able to commit to NZ prime time (7pm - 9pm nzt) are also welcome.

Season 11 kicks off Sunday 21st January. Teams new to DIBBL can build up to 1500 TW (including treasury) with friendlies to prep for entry into the league. Can play anyone in competitive games (no all snotling teams), but cannot play the same team twice. So if you're interested, you have just under 2 weeks to get your team sorted.

One rule change is being brought in to close the gap slightly between established teams and newcomers. The treasury system is currently broken in League. No spiraling expenses, no expensive mistakes. This has meant the old timers have been able to build up massive cash reserves, so even if they get smashed they can replenish easily. Compare this to the 1500tv teams that come in with no cash at all.

Existing teams and returning teams who have not played friendlies since leaving the league:
No cap on TW. However if TV+treasury>2100k, then treasury must be cut to 100k
e.g. TW = 1950, treasury can be no more than 150k; TW = 2000, treasury can be no more than 100k; TW = 2500k treasury can be no more than 100k.
The treasury restriction is only for the first game of the season, treasury can grow freely throughout the season.

Previous seasons have seen 16 teams split over the two divisions. Top 3 of each qualify for the main finals. Structure of S11 will depend on numbers.

Players who have signed up:

ramchop:
Transfusion Time

pdarbs:
mountain gorillas

JPM:
Roman Renegades


DustBunny:
Back Alley Burglars


Foad:

Injury Time!!!!


Wozzaa:
Talabheim Timelords


tussock:
Otago Spirit


mushoomy:
Pitch Slap

OrcCleaver:

or

Sharper:
Wild Ex-pacts


paradocks:
Disregarded Derelicts


bigbullies:

Crouching Saurus Hidden Skink


Jevouse:

Overly Refined


PlantingLemur:
Bonesfield Bakers


barberfett:
Slaan Francisco 69ers

Geoffro:

Norse Code (probably)


DDAmAge112:
Hauraki Horrors



That's 17. Awkward number.