I used to play on Fumbbl quite a lot before quitting what had become, for all purposes, a full-on addiction.
In 2013 I was convinced by some friends of mine to try my first live tournament (the Tilean Team Cup 2013 in Modena). I enjoyed the event immensely and got hooked again. Now I play the greatest part of my matches with tournament rules, having abandoned almost entirely the team building and long-term planning aspects of the game (and, hopefully, the insane level of addiction as well).
Next stop: the World Cup 3 in Lucca, Italy, november 2015, with five real life friends.
We are the Honey Badgers ("I tassi del miele"), and we don't give a damn :D
Lavino Fighting Hellfishes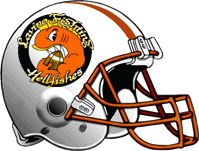 After some games trying different races, I came to my true love: humans. They cannot bash properly, they cannot pass properly, they cannot run properly. To be honest, I think they are a bit underpowered compared to "dedicated" races like elves or dwarves... but they incarnate the true spirit of bloodbowl: the challenge!
I coach the Fighting Hellfishes in the Ranked Division, I have a lot of fun with them and now they are the longest living human team in Fumbbl history.
The team policy is strict: all injured players are out. This led in the past to some painful retirements, but the team has always recovered and always will. This also proves that not only Orcs and Dwarves can survive uninjured in Ranked.
GO HELLFISHES!
My
CR development graph