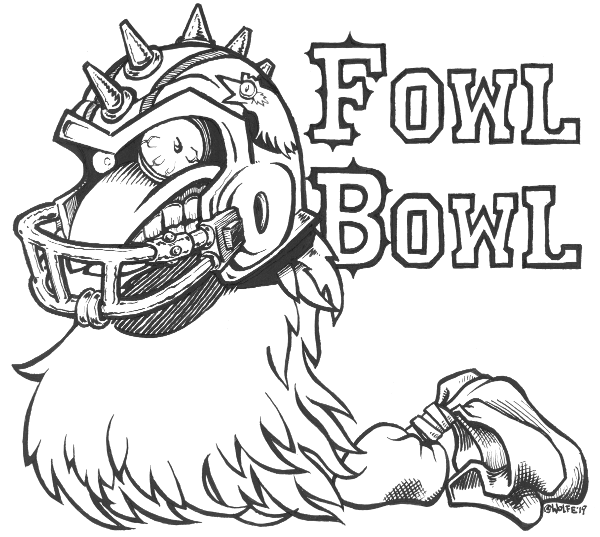 Proud Tournament Organizer for the Fowl Bowl
Folks I've had the pleasure of playing.
I'm just a rubbish coach. Middle of the pack. I make a fair number of mistakes, and love to block (too much.) That said, I've decided that's okay. I sometimes need to remind myself that I'm going to win sometimes, and lose sometimes... and even if
I'm mediocre at the game
, that's okay. My fragile ego doesn't handle being 'booed' by the crowd though, so I almost always have spectator sounds turned off. I know I suck, I don't need the auditory reminder. Thanks.
Favorite Race(s):
NURGLE! (they make me laugh.) A distant second would be Orc. But I want to
learn
to play everything, I just haven't gotten around to building a Slann teams yet. (And I've barely played Wood Elf.) I feel strongly that the best way to learn how to beat a team is play as that team.
How I ended up playing Blood Bowl
I bought a BB team around twenty years ago to help a friend get a league going, and ended up only playing twice. I only remember one of the two games. A local game shop that my kids frequent hosted a local BB league, so I thought I'd stop in here and really learn how to play.

Be gentle to the old man, eh?
Scheduling Games
And I've been having a blast with leagues and tournaments, which work great for me because I'd far rather scheduler a game for a set time than just wander into a game. Just to put them out here... these are generally the times I'm most likely to schedule start times for games:
Sun - (0000-0230), (1300-0000)
Mon - (0000-0230)
Wed - (0130-0200), (1430-2100)
Fri - (0130-0200)
Sat - (1300-1330), (1900-0000)
I'm trying to make time to jump into the Thursday night
[SL]am tournament-ettes
at 9pm EST (03:00 Friday server time). But other than that, I'm happy to play my uncommitted [R] and [L] teams. Just PM me, and we'll see if we can find a common time.
-----
23 June 2018 :: One year FUMBBL Anniversary!
After one year in Blood Bowl, I've played two tabletop league seasons (orcs then khemri)(winning the second), played in two online NAF tournaments, one tabletop NAF tournaments, and 369 (121/81/167) games on FUMBBL. Lets see, that's 154 games in League, 119 in Ranked, 91 in Blackbox, and 5 in Stunty Leeg. The five in Stunty were while I was still learning the basics of Blood Bowl... just ask the coach that was yelling at me for trying to pick up the ball with a NoHands Raptor. ;-) I've learned to lose gracefully; I've had lots of practice.
When I realized I was coming up on a year, my goal for the end of the year was to hit at least 365 games. That, I managed. I also had a quiet goal of having at least half as many draw games as losses. I've just reached that a couple times, but keep falling behind.
In the coming year, my goals shall be: (1) to attend at least one NAF tabletop tournament, (2) get to 650 games, (3) continue to contribute to the community in little ways, and (4) have fun. Not gonna have a win objective, 'cause it interferes with the fun. I would like to be able to add that coach badge for "100 games in the box" to my profile this year.
23 June 2019 :: Two year FUMBBL Anniversary!
In my second year of Blood Bowl, I've played in one greatly abbreviated tabletop league (Chorfs), two tabletop NAF tournaments, and coordinated/ran a NAF tournament (Fowl Bowl:Flinger, Lich 'n Good - 8 June 2019)