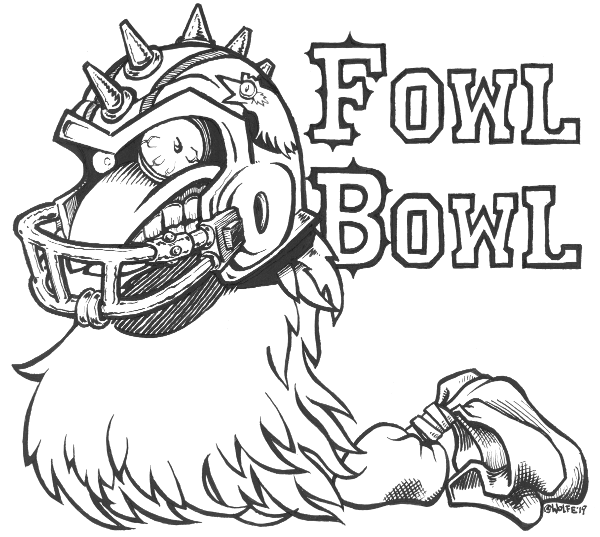 Proud Tournament Organizer for the Fowl Bowl
Folks I've had the pleasure of playing.
I'm just a rubbish coach. Middle of the pack. I make a fair number of mistakes, and love to block (too much.) That said, I've decided that's okay. I sometimes need to remind myself that I'm going to win sometimes, and lose sometimes... and even if
I'm mediocre at the game
, that's okay. My fragile ego doesn't handle being 'booed' by the crowd though, so I almost always have spectator sounds turned off. I know I suck, I don't need the auditory reminder. Thanks.
Favorite Race(s):
NURGLE! (they make me laugh.) A distant second would be Orc. But I want to
learn
to play everything, I just haven't gotten around to building a Slann teams yet. (And I've barely played Wood Elf.) I feel strongly that the best way to learn how to beat a team is play as that team.
How I ended up playing Blood Bowl
I bought a BB team around twenty years ago to help a friend get a league going, and ended up only playing twice. I only remember one of the two games. A local game shop that my kids frequent hosted a local BB league, so I thought I'd stop in here and really learn how to play.

Be gentle to the old man, eh?
Scheduling Games
And I've been having a blast with leagues and tournaments, which work great for me because I'd far rather scheduler a game for a set time than just wander into a game. Just to put them out here... these are generally the times I'm most likely to schedule start times for games:
Sun - (0000-0230), (1300-0000)
Mon - (0000-0230)
Wed - (0130-0200), (1430-2100)
Fri - (0130-0200)
Sat - (1300-1330), (1900-0000)
I'm trying to make time to jump into the Thursday night
[SL]am tournament-ettes
at 9pm EST (03:00 Friday server time). But other than that, I'm happy to play my uncommitted [R] and [L] teams. Just PM me, and we'll see if we can find a common time.
-----
23 June 2018 :: One year FUMBBL Anniversary!
These are the TT teams I have:
Team
Status
Amazons
Assembled
Gaspez-Arts Chorfs
(Bull Warriors)
Painted
Dwarves
Black Scorpion
Primed
Bretonnian
Chaos
(lost)
Chaos Pact
Dark Elf
Daemons of Khorne
Elf Union
Assembled
Goblins
(GOBham Asylum)
Acquired
Halflings
Assembled
High Elves
2016 GW Humans
Assembled
Khemri
Subs only
Lizard Men
Necro
(Raffaele Stumpo Art)
Painting
Rolljordan
Female Norse
Assembled
Nurgle
Greebo Contagion
Assembled
Heresy Ogres
Painted
2ndE GW Orcs
Painted
2016 GW Orcs
Assembled
Simyin
2016 GW Skaven
Painted
Skaven
Rolljordan Ratmen
Assembled
Slaan
Undead
(Raffaele Stumpo Art)
Primed
Underworld
Painted
Vampire
Wood Elves
Painted
After one year in Blood Bowl, I've played two tabletop league seasons (orcs then khemri)(winning the second), played in two online NAF tournaments, one tabletop NAF tournaments, and 369 (121/81/167) games on FUMBBL. Lets see, that's 154 games in League, 119 in Ranked, 91 in Blackbox, and 5 in Stunty Leeg. The five in Stunty were while I was still learning the basics of Blood Bowl... just ask the coach that was yelling at me for trying to pick up the ball with a NoHands Raptor. ;-) I've learned to lose gracefully; I've had lots of practice.
When I realized I was coming up on a year, my goal for the end of the year was to hit at least 365 games. That, I managed. I also had a quiet goal of having at least half as many draw games as losses. I've just reached that a couple times, but keep falling behind.
In the coming year, my goals shall be: (1) to attend at least one NAF tabletop tournament, (2) get to 650 games, (3) continue to contribute to the community in little ways, and (4) have fun. Not gonna have a win objective, 'cause it interferes with the fun. I would like to be able to add that coach badge for "100 games in the box" to my profile this year.
23 June 2019 :: Two year FUMBBL Anniversary!
In my second year of Blood Bowl, I've played in one greatly abbreviated tabletop league (Chorfs), two tabletop NAF tournaments, and coordinated/ran a NAF tournament (Fowl Bowl:Flinger, Lich 'n Good - 8 June 2019). Folks seemed to have fun at the tournament, but it was disappointingly lightly attended. The
Isle of Misfit Teams
is still running okay, with thirty-two teams starting the most recent tournament, but a slow churn of participation and membership. I have the honor of managing the
Old World Rookie Rumble
which seems to attract enough teams to run once a month. I've tried to drive traffic to the FUMBBL site; in custom printed FUMBBL pencils I've been handing out to tabletop players, and cross-posting news from FUMBBL to the Facebook Blood Bowl Community.
I've reached 666 (233/143/290) total games on FUMBBL with 324 League games, 124 Ranked games, 214 games in the Black Box, and with five lonely games in Stunty Leeg as outliers. (So that's 297 new games this year, 170 of those in League, 123 in the Box, and five in Ranked.) My one year record is 112/62/123, which means my year one win rate was 43.8%, year two was 48.1%, overall 45.7%. I've had some highs and lows. I joined the Black Box Steel trophy, and have 94 games in there, but haven't been able to get games with the appropriate teams lately so have stalled out.
Over the next year, I'll be satisfied to reach 900 total games on the site. I haven't mastered the zen-like composure to not yell at the screen or complain about the dice, but I'm going to work on it. (I'm just continually grateful there isn't audio going out though... and as long as I don't get voice recognition software, I should be golden.) I'm planning to attend another NAF tournament in October, and hope to attend at least one additional tournament before my anniversary in 2020. Given how lightly the
Fowl Bowl
was attended, it doesn't seem likely that I'll try it again. I'd like to complete the one hundred and fifty games for the Box Trophy before October, but that doesn't feel possible... which may impact whether I play in the 2019-2020 round. I'm still not going to have a 'win goal'... but need to find some sort of 'fun goal' instead.