DLE lingo (expressions widely used in the WARROOM)
- Hep! : Hi / Hello / Morning / Evening
- Trading rights: The draft pick itself
- Trade banter: Advertise a trading opportunity, and telling what you offer/need.
- Feeler: Sending an inquiry about a potential trade, without an actual offer.
- Conditional pick: When the result of the trade depends on a condition that will be or will not be met at a later point of time. Example: I give you a 2nd round pick for that, but i give a 1st round pick instead, if i will win my division.
- Overdrafted: Something is selected too early compared to value. Highly subjective. Like linemen are overdrafted.
- Underdrafted: Opposite of overdrafted. Something should have been selected much earlier.
- Trade up: This one is easy. Send a combination of picks for a higher selection.
- Trade down: Opposite of trading up. Giving up a selection for more selections.
- Frontload: Give up future draft selection right for immediate selection right. Future picks have less value as time is money, so the future pick given up is better.
- Backload: Opposite of frontloading. When someone sells current draft stock for better and or more future draft stock.
- Pulling an "Arcayn": Extreme case of backloading, when someone (like coach Arcayn) decides to give up on the current draft, and mass sell the current draft rights for future.
- Pulling a "Valen": Extreme case of frontloading, when someone (like coach Valen) decides to give up on future and current, and acquire the No1 overall pick!
- Pulling a "Darkwing2k6": Converting a high selection into lots of 3rd and 4th round picks, and a roster full of skilled players.
- Pulling a "Hester": Picking up the ball right after kickoff at the back of the end zone, and go the distance.
- Pulling a "badpublicity stunt": Trading away the whole roster, and replacing them with a totally different kind. (With mass ag4 in the original case.)
- Pulling a "Barr": Unintended dodge due to misclick, fail, armor break, death.
- Averheim PUNT: Punting to protect the baller and give the opponent the chance to get the ball and score.
- Conditional 1.5 pick. If the picks provider is in bottom16, then a 2nd round pick, if top16 then a 1st round pick. Basically the pick will be between No17 and No48.
Information on joining DLE
League is running with 32 franchises. As dropouts happen, and people quit at some point, so we are always looking for reserves. We are working with a waiting list in case a franchise will be on sale.
If you are interested, then get in contact with the staff.
Takeover procedure
- Full migration using custom rosters. Including SPPs, injuries. (Except Niggle which is converted to armor loss.) Fan factor remains the same. New owner inherits the draft rights.
- Team logos and stuff are inherited. Previous owner is kindly asked to provide the full code for the team bio. The new owner may adjust the bio. If the previous owner wishes a reference to the original designer of the team page will be added.
- The new coach taking over a team can retire any number of permed players. Then the team TW is calculated and compared to the Benchmark. 'BENCHMARK TW' is equal to 1100 TW. If the team TW is below the BENCHMARK, then follow the procedure below:
1. Adjust team TW. All draft picks (both current and future) are valued at: 1st-80k, 2nd-40k, 3rd-20k, 4th-10k. Then compare to normal draft rights (300k in total). If the balance is negative, then set it to 0. (No credit for lack of picks.) If the balance is positive, then add the balance to the team TW.
2. Subtract your adjusted TW from the Benchmark (1100). This is the difference, or D. Divide D by 250k to get your Rebuild Factor (RF). Note the remainder (R).
***
So if the BENCHMARK is 1200k, and your TW is 900k, D=300k. Dividing D by 250k, we get 1, remainder 50k. So RF is 1, and R is 50k.
***
3. Repeat the following process RF times.
3.1. Randomly select a draft pool from the three most recent drafts (Roll a D3 on Discord. 1 = Oldest draft. 3 = Most recent draft)
3.2 Award a full set of draft picks to the team (1st + 2nd + 3rd + 4th rounder).
3.3 The team can select a copy of each a player drafted in each round.
3.4 Top8 draft pick in the 1st round cannot be copied.
4. Do the above 1 more time, except the number/type of awarded picks depend on R:
- 10-20: 4th
- 30-40: 3rd
- 50-70: 2nd
- 80-90: 2nd + 4th
- 100-120: 2nd + 3rd
- 130-140: 1st
- 150-160: 1st + 4th
- 170-180: 1st + 3rd
- 190-200: 1st + 3rd + 4th
- 210-230: 1st + 2nd + 4th
- 240-250: 1st + 2nd + 3rd + 4th rounder
5. Naming policy: The clones should be fluffed up and renamed. Recommended methods are either:
- Finding a historical player with similar skillset.
- Hiring a rookie with your local language, or your teams Warhammer city background.
5. Limitations:
- No trade of the created players until the end of the season. (including the draft)
Draft League Europe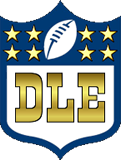 DLE is a franchise based league based in the Old World ranging from Reikland, to Bretonnia, to Estalia, to Tilea and all the way up to Kislev.

The league has started out with 18 franchise for season 1. All cities accross the world put in applications to house one of the 18 franchises. The League expanded to 14 more locations at the beginning of season2, and will be run on a 32 team basis.
One by one the founding owners, then the expansion owners selected their home base and thus the DLE was born. Each team was named after the City/Province they settled in along with a nickname.

Time to time a franchise might be on sale. In such cases we rely on our wating list. Please see the "Joining DLE" section for more information.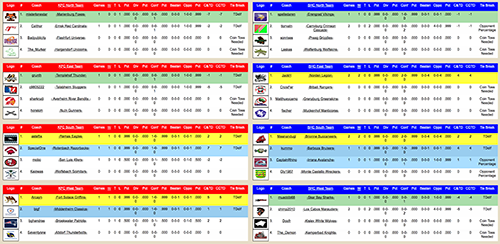 Season 6
Season 5
- Broekwater Patriots won over Grenzburg Greenskins
Season 4
- Broekwater Patriots won over Irrana Avalanche
Season 3
- Flashfurt Universe won over Norden Legion
Season 2
- Kemperbad Knights won over Averheim River Bandits
Season 1
- Flashfurt Universe won over Brionne Buccaneers
DLE matches are played under CRP and fumbbl tournament rules - no game options take place with the following exceptions/additions:
The standard rules for inducements are not used. Instead the following rules apply:
Regular season inducements:
0-140 TV difference: nothing.
150-240 TV difference: 1 BABE.
250-340 TV difference: 2 BABES or 1 APO or 1 REROLL or 1 BRIBE.
350+ TV difference: 2 BABES + APO.
Playoff excluded, valid only for the regular season.
TW cap of 2000. DLE TW does not consider the base cost of players.
The CRP concession rules will be enforced manually even if the 4 or more skilled player has less than 51 SPPs.
The stat (not more than 2 points higher/lower than original) limits are manually enforced.
Niggled injury is transferred as an armor loss.
For a win you get 2 points, for a draw you get 1 point, and 0 points for losses. For infractions like concessions and no shows you get a -1 point for playoff consideration, but +1 point for draft consideration.
During play offs there will be sudden death overtime, of course.
Rolling 10 days to complete a round. As soon as the round finishes, there will be a new round with new deadline. (We are strict on all rules, emphasize this deadline. Dont expect extension, unless holiday was announced well in advanced, was discussed and agreed to an alternate procedure.)
Coaches are expected to be able to play their games in european time zones.
Dont time out your opponent. If the opponent is too slow, then report it. With that said play reasonably fast, dont go over 4 minutes without reason.
Breaking the rules, like concessions, egregious no shows may result in forfeiture of draft picks in the oncoming draft. Concession, repeated forfeit, or intentionally losing are valid reasons for a ban.
If you want to tank for next draft, then your best bet is to try scoring often, and collect SPPs, so play at least semi-competitively. You are, of course, allowed to put your reserve squad on the field...
If a player dies, or retired for any reason, then the team is allowed to buy a rookie replacement.
If a franchise player dies or has been retired, then the team gets a late 3rd round compensation draft pick in the next draft.
Potion use allowed in the postmatch phase together with skilling.
Potion trade is considered an away and back trade of a player. Such trade can be only agreed and posted during the trade resolution windows (after round9 and during the offseason).
Potion cures all injuries no matter in which incarnation it happened.
Same logic applies for Magic Sponge. (Yes, it can retroactively remove Niggle even after it was converted to AV loss.)
The team with higher TV readies first.
Player trades are resolved after round9, and after the end of the season.
A trade is agreed once all parties agreed to it and a staff member is invited and sees the agreements. A trade is official once a staff member posts it. Then trade-comissioner (Jackassrampant) reviews the trade, and has a chance to eliminate it if he deems it unfair to either party.
A team can apply for RESTRUCTURE within 48 hours after its last game in the season. It is practically a TAKEOVER process (see 'Joining DLE' tab) with the following differences.
1.) The BENCHMARK TW is calculated 48 hours after the end of the regular season.
2) A RESTRUCTURED team may not make any new trades until the end of the current seasons. (including the draft)
3) Must ask advice on trades from nominated expert on all trades he intends to make in the season following the restructure. (Only asking and listening is mandatory, then can act as he wishes.)


Free agency
If a team's TW (so MNG included) is below a treshold, then the team can select 1 player.
- The Free Agents list is at the Warroom (google docs) sheet 'FA'.
- The Free Agents list contains low profile players from college, and undrafted players from DLE drafts.
Treshold TW=1200.
TW adjustment if the team has more than normal draft capital (same formula as in restructure).
Free Agent pickup will be only possible after round 2,3,4,5,6,7.
Process of asking for a Free Agent:
- Contact Chimp after you completed a game, skilled and fired whoever you wanted.
- Chimp checks your team TW, and says you can or cannot select. (If your team TW is BELOW the treshold, then he will give you green light.) Beware that fumbbl may not select the TW correctly if you manually skilled a player, so the TW needs to be checked manually before FA pickup.
- You browse through the list of FA sheet, picking someone that was not picked before.
- Chimp deletes/crosses the player that you pick, so noone else can select.
- You create the player, and write the details into his bio. Acquisition type is Free Agent.
- Note: You cant skill a player after you picked a FA in the given post match sequence