Humbel Practitioners
of BloodBowl

There are many stories told about Clan Eshin. Often in hushed voices, often with equal parts of awe and terror. Most of those stories aren't true, of course.
Moving east often comes with a certain kind of enlightenment, a calm and peaceful outlook at live. Like many other of Clan Eshin, this particular subclan found a special purpose in live. The honorable game of BloodBowl is a perfect way to humbly exercise the gifts of the family in a sane, peaceful and harmless way.

Zhe Practitioners would like to humbly reject any rumors that zhey use daggers on zhe honorable fields of BloodBowl. To the untrained eye the unfortunately clawlike paws of skaven may look a bit daggerlike, especially with zhe swift motions a trained player of clan Eshin is able to perform, but please refrain from any unfounded and hurtful accusations.
Furthermore, there is absolutely no reason to link zhis team to assassinations that coincidentally happen at the same weekend as the games. Zhere is never any proof and frankly, such talk is highly specifistic.

Seasons
Year Two, Summer - Youngblood Scramble
The practitioners very humbly proved that they concentrate on Bloodbowl and nothing more.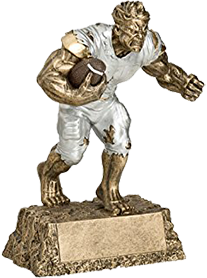 Prestige Points Earned: +20 (and +3 Achiev.)



Players
Honored Guests


Humble members that caught the eye of the audience