Finding a game: Leagues
What's the League Division all about?
League is a very flexible division that can accommodate two friends playing a couple of games together right through to custom rulesets that allow all manner of weird and wonderful ways of playing for many coaches.
It is also place where you can create your own league for you and your friends.
Games played in league division do not affect your coach ranking.
If you just want to play a few games against your friend.
There are restrictions on how many consecutive games you can play against the same coach in competitive division, so if you want to play a few times against a friend, league division is the place to do it.
Create a team in league division (Home>create new team>league> open league).
Once you both have teams created in the open league if you both agree the same game name then click play next to your team and when you are prompted add the agreed game name in the start new game dialogue box and you should be able to play.
If you want to join a league or see what leagues are already running.
The most up to date information on currently active FUMBBL leagues is contained in the "League news" blog posts by coach Razmus. The latest of these is sometimes linked to from your coach home page. Look for the large FUMBBL logo link (currently on right hand side but it does move about), highlighted in yellow in the picture below. However when there are a lot of competitions running it may be removed and you need to search Razmus blog posts scan the archive on the right hand side looking for the most recent "FUMBBL League news", there's usually a new one every couple of weeks.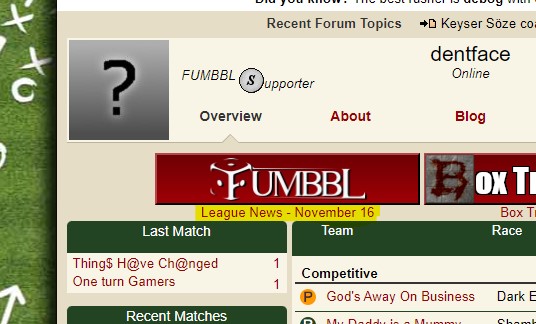 The main Discord server also has a #leagues channel where you can ask for help joining leagues.
If you want to create your own league.
You may also need to get some help from active coaches on the Main discord server #leagues.
---
Next page: Play a test game
Last update: May 9, 2023