Fantasy Football Client Help
This page is for help with the Fantasy Football Client for the CRP/LRB6 rule set.
FFB tutorial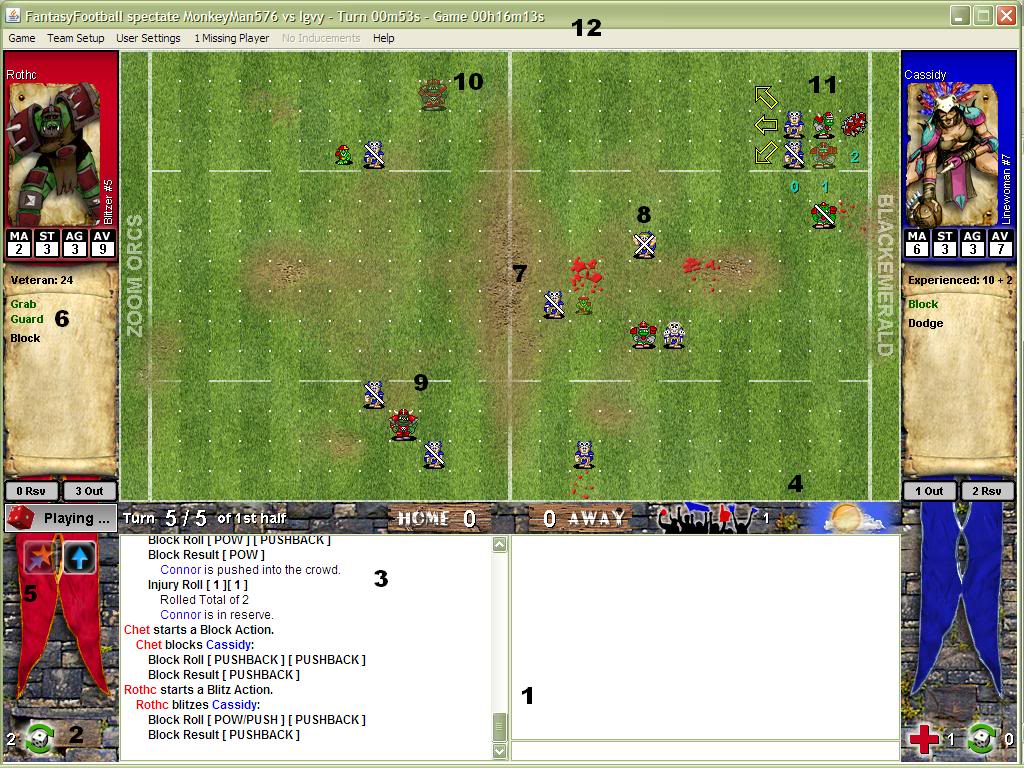 1 This is the chat window where you can chat with your opponent.
2 The icons displayed here are for your Re-rolls and Apothecary, your opponents are displayed in the opposite corner.
3 This dialog window shows all the dice roll results for this game.
4 These icons show how many spectators are currently watching your game and the weather, on the opposite side of this display bar it shows the turn and half, and in the middle it shows the score.
5 This is where the Block Dice are displayed.
6 This window displays yours players skills. The skills in black are starter skills and the skills in green are skills that have been learned.
7 This Amazon Linewoman has been knocked prone.
8 This Amazon Catcher has been Stunned.
9 This Black Orc Blocker has not performed an action yet.
10 This Black Orc Blocker is translucent because he has already taken an action this turn.
11 The Orc Blitzer is performing a Blitz action.
12 Displays the two coaches playing, the game time and the tool bar. Have a look through the tool bar options in your first game to familiarise your self with the in game options.

Video by Mike Davies showing how the client works


Keyboard Shortcuts and other useful game-play tips
Most coaches play using only the mouse, however some prefer to use the keyboard short cuts. Here is a list of useful hints, tips and keyboard shortcuts. The following commands can all be found by clicking on help on the tool bar in the FFB client.
All dialog boxes can be activated by pressing the first letter of their label, so Y or N can be pressed to answer Yes or No
Press 1, 2 or 3 to select the corresponding block dice you would like to use. The block dice are numbered left to right.
Hold Shift and Right Click on a player and you can attach a short note to that player such as Blodge or St5.
Player Moves
Move North - W or Num pad 8
Move South - X or Num pad 2
Move East - D or Num pad 6
Move West - A or Num pad 4
Move North East - E or Num pad 9
Move North West - Q or Num pad 7
Move South East - C or Num pad 3
Move South West - Z or Num pad 1
Player Selection
Select Current Player - S
Selection Cycle Left - LESS
Selection Cycle Right - Shift LESS
Player Actions
Action Block - Ctrl B
Action Blitz - Ctrl Z
Action Move - Ctrl M
Action Foul - Ctrl F
Action Stand Up - Ctrl S
Action Hand Off - Ctrl H
Action Pass - Ctrl P
Action Stab - Ctrl S
Action Hypnotic Gaze - Ctrl G
Action End Move - Ctrl E
Toolbar and Menu Shortcuts
End Turn - Ctrl T
Load Team Setup - Alt L
Save Team Setup - Alt S
Spectator Commands
Type the following commands into the chat box while you are watching a game.
/spectators - Shows you a list of other coaches watching the game
/aah - The crowd will sigh
/cheer - The crowd will cheer
/boo - The crowd will boo
/stomp - The crowd will stomp on the bleachers
/ooh - The crowd will ooh
/crickets - Crickets will start chirping
/clap - The crowd will clap
/laugh - The crowd laugh
/shock - the crowd gasp
Can't Chat in game?
Some people are not able to see the very bottom of the client because a white bar is obscuring the chat box. This is not a problem with the FFB client, all you need to do to fix it is change your java settings. Here is a quick guide for people using a Windows Operating System(OS)
Go to Control Panel -> Open Java -> Click on the Advanced Tab -> Click on the + Icon next to Secuity, then General -> Remove the tick from the box that reads 'Show sandbox warning banner' -> Click Apply then OK
There you go you have fixed it.
If you are in the middle of a game there is a quick fix so you can chat. Click in the chat window (where the chat is displayed) then press the TAB key on your keyboard, then you can type what you want to say and then press ENTER to send the message.
If you are experiencing the same problem on a Linux OS then click here to find a solution.
For a fix to the bottom bar on linux see this post : here
Can't play or spectate games anymore
A few coaches have experienced a problem where they can no longer spectate or play games after they have previously been able to. This is not a problem with the client. All you need to do to fix it is this -
Go to Control Panel -> Programs -> Java -> General -> Temporary Internet Files -> View -> Delete Fantasy Client
Then the next time you play the client will automatically be re-downloaded to your computer and the problem should be resolved. If you are still experiencing problems spectating/playing games after you have done this then make sure you have got the most recent version of Java installed on your computer. Click here to download and install Java.
Some coaches have also experience this error message when trying to spectate a game -
''Client expect server version 0.7.1 or newer. Server version is 0.7.0 Please wait for a server update''
This is a problem with Java going into offline. To fix this problem add &o=1 to the end of the URL of the game you are trying to spectate like this - https://fumbbl.com/ffb.jnlp?spectate=19955&o=1 This will take java out of offline mode and allow you to spectate as normal.
In case that does not work and you can now just spectate and not play, add &0=1 to the "play" link of your team. The "Play" link of your team is https://www.fumbbl.com/ffb.jnlp?id=Team ID, e.g. https://www.fumbbl.com/ffb.jnlp?id=39391. You can see your team ID in your browser when you are at your team page. In this example, the valid play link for the team with ID 39391 would be https://www.fumbbl.com/ffb.jnlp?id=39391&o=1.
Reporting Bugs
If you should find any bugs whilst using the FFB client then please report them here.
Please read this before submitting any bugs - There are constantly people working extremely hard to iron out the few remaining bugs in the client. Before you submit a bug make sure you check the list of bugs to see if it has already been submitted to avoid duplication. If you press and hold Ctrl and F then you will be able to search through the bugs quickly using a keyword. For example if you find a bug with the dump-off skill press and hold Ctrl and F then type dump into the space provided and press enter you will then be directed to every instance this word appears in the bug reports so you can quickly find out if the bug you have discovered has already been reported.
Test Mode
It is possible to change lots of settings in the FFB client by playing in Test mode. Reasons for doing this include:
Playing head to head on the same computer
Testing out skill combinations and tactics
Testing out tabletop tournament teams
Using other coaches' teams
Making up new players and teams
Check out this full description of how to use Test mode.
Last update: May 18, 2020