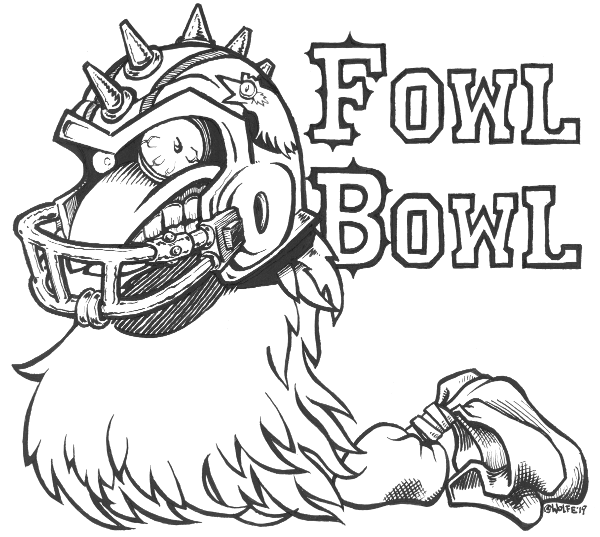 Proud Tournament Organizer for the Fowl Bowl
Folks I've had the pleasure of playing.
Christer's BBCode Primer
2020 Skill Usage
Disconnected?
FUMBBL Badges for BB2020
Are you looking for more information about the
RazBot
? (yeah, the link is the super basic help about the bot.)
I'm just a rubbish coach. Middle of the pack. I make a fair number of mistakes, and love to block (too much.) That said, I've decided that's okay. I sometimes need to remind myself that I'm going to win sometimes, and lose sometimes... and even if
I'm mediocre at the game
, that's okay. My goal now is simply to provide a challenging game to my opponent. My fragile ego doesn't handle being 'booed' by the crowd though, so I almost always have spectator sounds turned off. I know I suck, I don't need the auditory reminder. Thanks.
And I pretty much hate the Warhammer fluff. It is too dark and just too dystopian and irredeemably corrupt and evil for my tastes. I want heroic good guys. I do not want lazy halflings... I want heroic Tolkein-eque halflings. Orcs, and goblins, and chaos (oh my!) are fine. Demons of corruption and disease are fine. If evil is gonna be that bad though, I wanna see some good too... not merely order, but capital G, Good. And of course, the only thing I hate more than the Warhammer fluff is the little I know about the Age of Sigmar fluff, which appears to be everything I already hate about the Warhammer fluff turned up to eleven. Soo... anyone telling me something isn't true to the source material, I'm gonna laugh at you and say, "Good!". I'm playing BB in a parallel Middle Earth rather than parallel Warhammer world anyway.
Favorite Race(s):
NURGLE! They make me laugh, and I try to fill them with just as much whimsy and comedy as possible. A distant second would be Orc, which in my head I see as Uruk-hai. But I want to
learn
to play everything, but I still struggle with an intuitive feel for probabilities while playing agile. That does tend to mean that I have a corresponding challenge with hybrid teams. I feel strongly that the best way to learn how to beat a team is play as that team.
Reminder to me. If either Box or Ranked represent more than 60% of the games which impact your CR -- that's the CR which will be displayed on your coaches page.
How I ended up playing Blood Bowl
I bought a BB team around twenty years ago to help a friend get a league going, and ended up only playing twice. I only remember one of the two games. A local game shop that my kids frequent hosted a local BB league, so I thought I'd stop in here and really learn how to play.
List of Legends
None! Bwahaha. *sob*
Be gentle to the old man, eh?
Scheduling Games
And I've been having a blast with leagues and tournaments, which work great for me because I'd far rather scheduler a game for a set time than just wander into a game. Just to put them out here... these are generally the times I'm most likely to schedule start times for games:
Sun - 1400-0000
Mon-Thr - 2300
Sat - 1300-0000
I'm trying to make time to jump into the Thursday night
[SL]am tournament-ettes
at 9pm EST (03:00 Friday server time). But other than that, I'm happy to play my uncommitted [R] and [L] teams. Just PM me, and we'll see if we can find a common time.
-----
23 June 2018 :: One year FUMBBL Anniversary!
After one year in Blood Bowl, I've played two tabletop league seasons (orcs then khemri)(winning the second), played in two online NAF tournaments, one tabletop NAF tournaments, and 369 (121/81/167) games on FUMBBL. Lets see, that's 154 games in League, 119 in Ranked, 91 in Blackbox, and 5 in Stunty Leeg. The five in Stunty were while I was still learning the basics of Blood Bowl... just ask the coach that was yelling at me for trying to pick up the ball with a NoHands Raptor. ;-) I've learned to lose gracefully; I've had lots of practice.
When I realized I was coming up on a year, my goal for the end of the year was to hit at least 365 games. That, I managed. I also had a quiet goal of having at least half as many draw games as losses. I've just reached that a couple times, but keep falling behind.
In the coming year, my goals shall be: (1) to attend at least one NAF tabletop tournament, (2) get to 650 games, (3) continue to contribute to the community in little ways, and (4) have fun. Not gonna have a win objective, 'cause it interferes with the fun. I would like to be able to add that coach badge for "100 games in the box" to my profile this year.
23 June 2019 :: Two year FUMBBL Anniversary!
In my second year of Blood Bowl, I've played in one greatly abbreviated tabletop league (Chorfs), two tabletop NAF tournaments, and coordinated/ran a NAF tournament (Fowl Bowl:Flinger, Lich 'n Good - 8 June 2019). Folks seemed to have fun at the tournament, but it was disappointingly lightly attended. The
Isle of Misfit Teams
is still running okay, with thirty-two teams starting the most recent tournament, but a slow churn of participation and membership. I have the honor of managing the
Old World Rookie Rumble
which seems to attract enough teams to run once a month. I've tried to drive traffic to the FUMBBL site; in custom printed FUMBBL pencils I've been handing out to tabletop players, and cross-posting news from FUMBBL to the Facebook Blood Bowl Community.
I've reached 666 (233/143/290) total games on FUMBBL with 324 League games, 124 Ranked games, 214 games in the Black Box, and with five lonely games in Stunty Leeg as outliers. (So that's 297 new games this year, 170 of those in League, 123 in the Box, and five in Ranked.) My one year record is 112/62/123, which means my year one win rate was 43.8%, year two was 48.1%, overall 45.7%. I've had some highs and lows. I joined the Black Box Steel trophy, and have 94 games in there, but haven't been able to get games with the appropriate teams lately so have stalled out.
Over the next year, I'll be satisfied to reach 900 total games on the site. I haven't mastered the zen-like composure to not yell at the screen or complain about the dice, but I'm going to work on it. (I'm just continually grateful there isn't audio going out though... and as long as I don't get voice recognition software, I should be golden.) I'm planning to attend another NAF tournament in October, and hope to attend at least one additional tournament before my anniversary in 2020. Given how lightly the
Fowl Bowl
was attended, it doesn't seem likely that I'll try it again. I'd like to complete the one hundred and fifty games for the Box Trophy before October, but that doesn't feel possible... which may impact whether I play in the 2019-2020 round. I'm still not going to have a 'win goal'... but need to find some sort of 'fun goal' instead.
23 July 2020 :: Three year FUMBBL Anniversary!
In my third year playing Blood Bowl, I played one season of the local tabletop league as Ogres and three tabletop NAF tournaments coming away with a Stunty Cup win at the second Keystone Kup and a first place win at the Mini-Bash at the Con at Betacon (only three other coaches). The
Isle of Misfit Teams
is wrapping up season five, and the
Secret Isle of Misfit Teams
was started and is up to season two. The
Old World Rookie Rumble
starts a new tournament every three to four weeks, and the
Old World Brawl
has semi regular tournaments as well. I created the Razbot to take care of some game announcements on Discord, and it's currently up to version 0.3.3. It now automatically discovers new tournaments for groups it is following, effective this morning.
I reached a total of 899 (316/196/387) total games on FUMBBL, one short of my goal for the year. 491 total League games, 168 Ranked, 235 Blackbox, and those five lonely Stunty Leeg games. That's 233 games for the year; 167 in Leagues, 21 in Blackbox, 44 in Ranked... which means there's a lost game somewhere. So, my one year record is 83/53/97... giving me a one year win rate of 47.0%. I need to stop looking at the statistics. I did intentionally push to get more Ranked games so my overall rank would indicate I'm a FUMBBL coach, not a Box coach. (And I learned that the balance point is sixty-percent. If you fall outside of 60% of your games being of one type or the other, your ranking changes.)
I never completed the Box trophy last year... and lost the motivation to play in the box very early in it's third year. I'm trying hard to learn to take things well when I am losing. I've thrown my hat into a handful of B.A.R. Brawls, Royal Rookie Rumbles, and FUMBBL Minors which likely accounts for a fair number of the Box and Ranked games I played this year. I'm unlikely to increase my participation much in those arenas going forward.
I think this last year I painted my Ogre teams so that I could play with them. I still have my Necro team on my bench to paint, and have thrown into a
Kickstarter for proper Vampire and Khemri teams
. I started assembling tiles for a DungeonBowl set. I'm pretty sure I now remember either selling or giving away my OLD chaos team to Baron Fergus more than a decade ago... so am changing them from status 'lost'. ;-)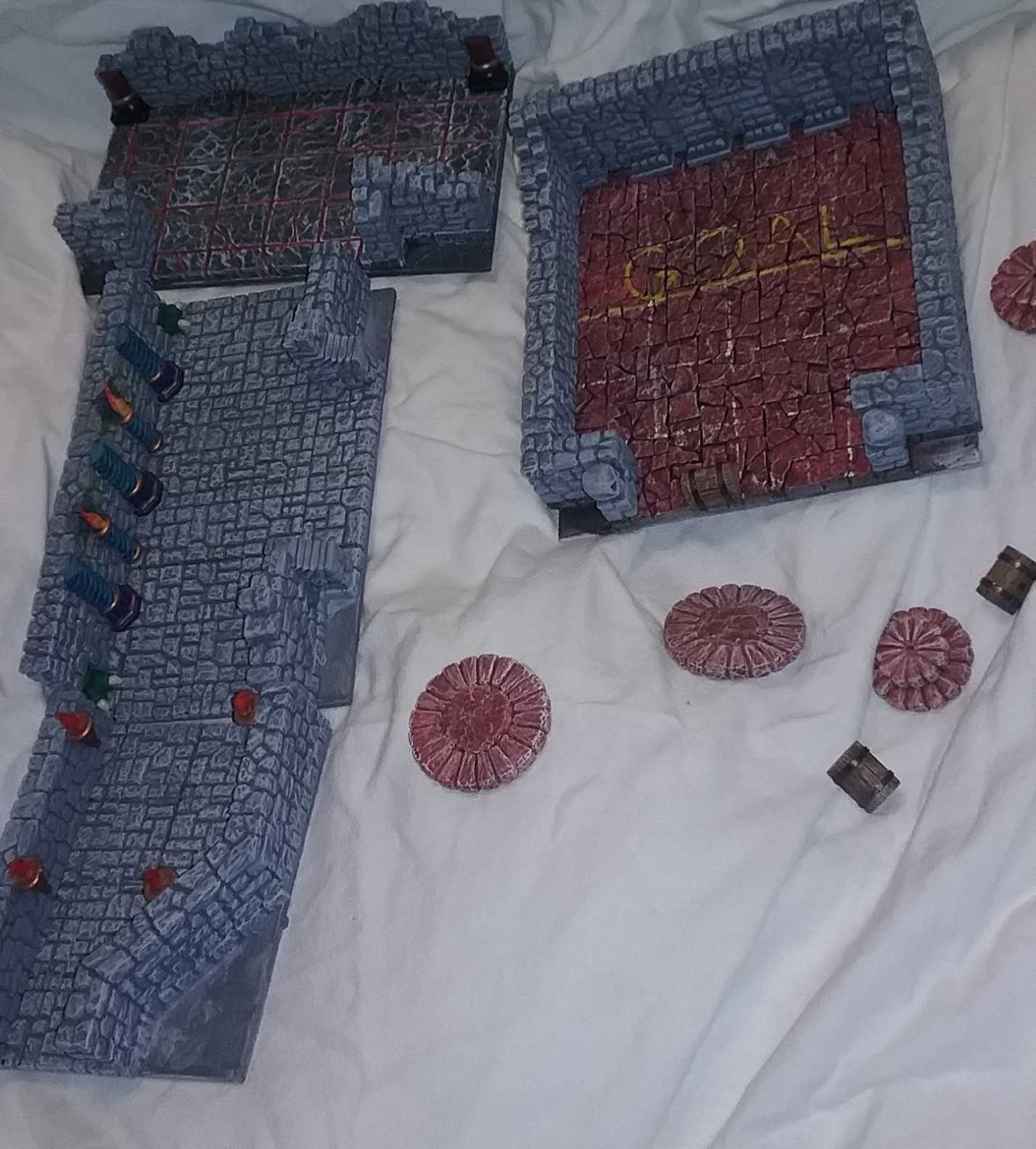 Painted tiles
So, for the next year... given that the desire to play has been waning, I'm going to put a pin in 1100 total games... so 202 total games, at least twenty-five will be Blackbox. I want to have my Necromatic team painted, have the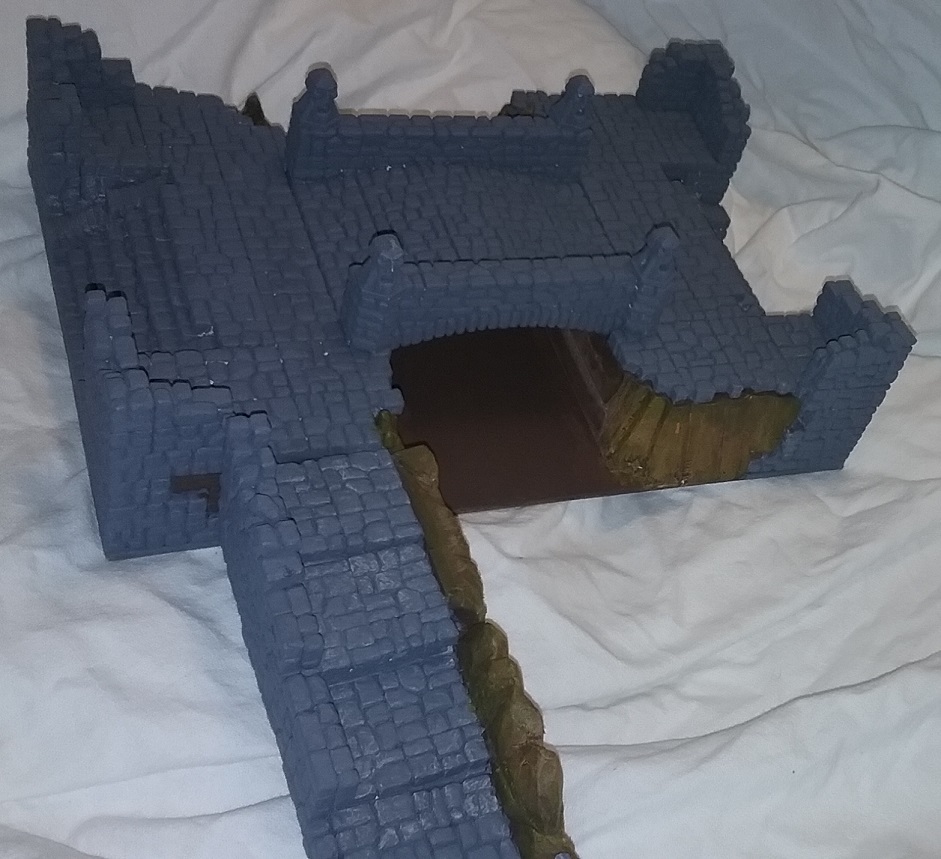 Tile in process
pieces I've already assembled for DungeonBowl
painted
, and have the rest of the tiles complete. I want to at least build a new tournament dugout, even if I don't have it painted by next year. Until there's a vaccine for Covid-19, I don't anticipate participating in any further tabletop tournaments or leagues. I want Razbot to at least announce tournament completion with winner(s), announce upcoming deadlines and call out the coaches who need to get their games played, and build a web front end to manage the whole lot.
(¯`·._.··¸.-~*´¨¯¨`*·~-.,-(_23 July 2021 :: Four year FUMBBL Anniversary!_)-,.-~*´¨¯¨`*·~-.¸··._.·´¯)
My fourth year of Blood Bowl, and it was the year dominated by Covid-19. No live games, although I did acquire a few new TT teams and the BB2020 Official Rules. The
Isle of Misfit Teams
is finishing up season seven, and the
Secret Isle of Misfit Teams
is in it's own season seven playoffs. Old World Rookie Rumbles and Old World Brawls were running regularly for a while, but participation has dropped significantly. Started Secret League Shields in months that lack other major Secret League tournaments, and we had the Second Annual Secret League Stunty Cup, which is still running now. Razbot was modified to identify the last game in a tournament which completes the tournament, and it sends me a pre-digested summary of the OWRR and OWB tournaments now. I just recently implemented the spoiler tag to the game completion announcement and I just want to say that Discord certainly made their implementation of the spoiler tag a lot more difficult than it needed to be.
I played as many games as I'd planned, passing the 1100 mark this year. A total of 1138 (423/243/472) games, or 239 (107/47/85) this year six more games than the previous year. I sit at 704 League, 248 Box, and 181 Ranked games; so 13 new Box, 13 new Ranked, and 213 League games this year. I didn't keep a tally, but I'm going to guess that more than half of my Ranked and Box games were actually Royal Rookie Rumble or B.A.R. Brawl games. That does give me a one year win rate of 54.6%, which is a little surprising... but then I've been playing less elf and stunty so that probably helps my tally.
I've won a few things this year. Most recently, the
Bar Brawl CV - Lo
... yep that lonely entry on this page for 'Won Tournaments'. At least I got one. My UTEP Party Minors in the NCBB won the Season 36: Waffle House Salty Tears Bowl. My Flamemasters of Zhurr in CIBBL came away with a toughly contested first in the CabalVision Morning Special in Y6 Summer. [SL] Akai Shimobe walked away with the trophy in [SL] Old World Brawl #80 (Developing) tournament, but does it really count if I'm also the commish?
I'd love to get Razbot to identify round deadlines and tag coaches who need to play. There are some technical hurtles though. Specifically, I don't have a programmatic way of identifying deadlines, and I'll need to find a way to map Discord IDs to FUMBBL IDs.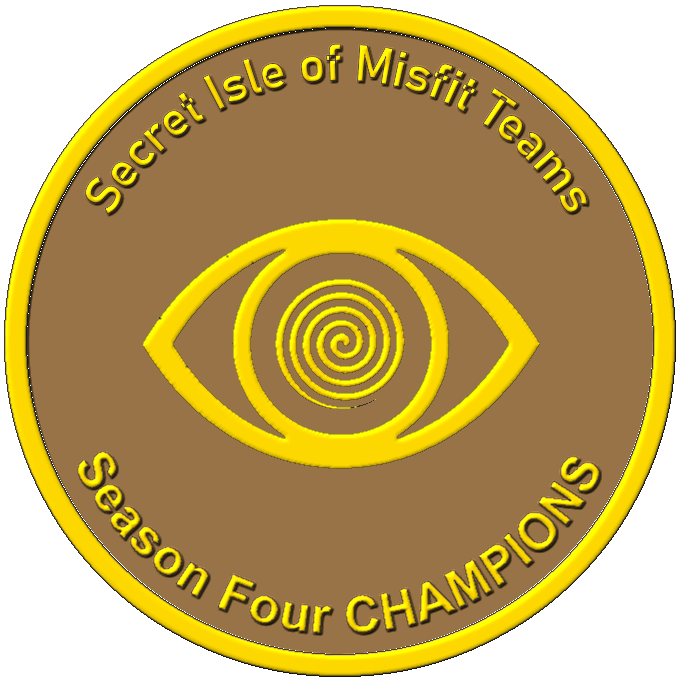 Award given away
this year!
I've learned a little more about generating graphics including simple animation. Of course, I want to learn more, and would like to generate stack-able graphics as trophies for the Secret League Open environment. If it works out, I might try my hand at updating the FUMBBL badges for BB2020 as well, since Kam disappeared. It hasn't been a high priority though.
I didn't paint as much as I would have liked. All the pieces I'd assembled last year have paint on them, although two of them still need final touches. My Undead/Necro Team(s) have eight zombies on the bench which are mostly painted... just needing highlights... then the whole team needs their bases finished and flocked.
I think Nurgle are my next team to be painted. I have a new airbrush and appropriate primer, so there isn't anything stopping me from starting when I get these zombies off the bench. I need to cut out more wood for the dungeon bowl tiles... I'd like to say I'll have at least all the tiles assembled this year, but between getting the bases planned out and the parts molded, I'm not certain I'll make it in a year.
I don't think I'll be playing more this year than last, so I'm going to put a pin in 1375 games by the this time next year. If I play more, great. I've got my eye on that "500 games won" badge, and I'm on track to earn it this year. Hopefully by next year we'll have a single competitive division, so I'm not going to make predictions of Box vs Ranked games. I've been playing roughly as many Box as Ranked, but both are and will continue to be a fraction of my total games.