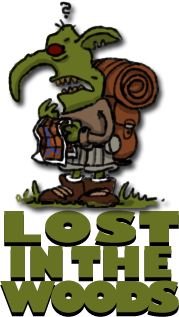 Snow swirled around the base of the trees as a wickedly sharp wind tore through the forest. It made the filthy Grünhäute uniform that Willy wore feel paper thin, the cold cutting him to the bone. He had torn a shoulder pad off the Blood Bowl uniform, and using one of his shoelaces had made a makeshift mask. It wasn't safe to go out without one. Yet the mask came with its own set of problems. His warm breath condensated inside of it, forming sharp little icicles that hung out the bottom and painfully stabbed him in the chest. Sometimes he felt he could hardly breath. And sometimes he found that it had slipped down, and he just hadn't noticed because he couldn't feel his frostbitten nose anymore. Willy was pretty certain one of his ears had snapped off too, as he'd found a weird flap of green skin loose in his helmet but he was to scared to check.
Willy huddled down into a hollow tree stump for a rest. He had been foraging for half the morning, but had found nothing. He leant back and wiped the icicles off his mask and off the guard of his helmet. His mind would have wandered, but it was too cold to think. Too cold to do anything but snatch a few moments rest in his makeshift shelter before going back to the desperate search for food. He sat up suddenly, startled by the low growl of some sort of predatory animal, but moments later realised that it was only his stomach rumbling. The little Night Goblin took a moment to calm down, but then realised he had lost a boot. The one he had taken the shoelace from. His little green foot was mostly black now. And was looking delicious. He resisted the urge to pick off the frostbitten flesh and eat it. He could save it for later if he didn't find anything. It would probably be less leathery than whatever it was he'd found in his helmet.
The wind keened and changed direction so that it was filling up his little hollow with freezing snow. Willy sighed, wiped more icicles off his mask with stiff fingers and hauled himself up. He needed to keep going, to find some food for the sake of the rest of the team.
He staggered out of the shelter and looked around. His tracks had already been covered up and he had no idea where to go. Hermine Hexerei had been leading the team through the woods and claimed he could tell which direction to go by checking where the moss grew on the trees. But Willy suspected he was just off tits on mushrooms and was using it as an excuse to eat the moss. Which tasted awful, Willy knew, because when no one was looking he had snuck some.
The little Night Goblin began to panic. Even if he found something to eat, how would he find the team? The wind was too loud to yell over. His tracks were long gone. And he had no idea which way to go. It's not like they had even lit a fire back at their makeshift campp. Brady Brise had used all the fuel in his chainsaw chopping wood, but it turned out it wouldn't burn because Bernd Bombig had left his matches at the clubrooms. Which Willy thought was stupid, but the Bomma did have a point. Why would he need to bring his bombs and matches on a simple training run through the woods?
Fuggit, Willy decided... It was time to search for the team. Which took him about fifteen minutes. Amazingly, Willy had only made it about fifty metres from where the team were hunkered down.
"Wot did yu find?" They asked him.
"Fuggall." He replied, exhausted.
The look of disappointment of his teammates faces would have made him cry, but that would have been to dangerous. His little green cheeks might have frozen.
A mound of snow moved, and the Head Coach stepped out from where he had been keeping warm between two Trolls.
The greenskin team all stopped complaining and turned to their boss for leadership.
The Head Coach cleared his throat.... " We just need to keep GOING FOR IT!" he loudly announced and then led his team further into the woods.