Creating teams
After this section you will know how to create new teams. If you already know this, you may safely skip to the next section which explains how to purchase players.
Click HOME in the top left corner this takes you to your homepage. Click 'Create a new team'.
At this point you will be asked to select a division for your team to play in. The best places to find games are the Ranked and Blackbox divisions. Ranked is an open league where you can choose your games, Blackbox has a pairing system that does it for you.
You will be prompted to select one of the 24 races in the game, and enter a team name. Please note the rules regarding team and player names. They are quite simple and really just common sense. Follow them. You can read more about the races available on FUMBBL - along with recommendations for starting rosters - on the race-specific rosters, strategies and tips page. There is also advice on which race to start out with.
When you have found an appropriate team name, you will be taken to your overview and you'll be ready to purchase players.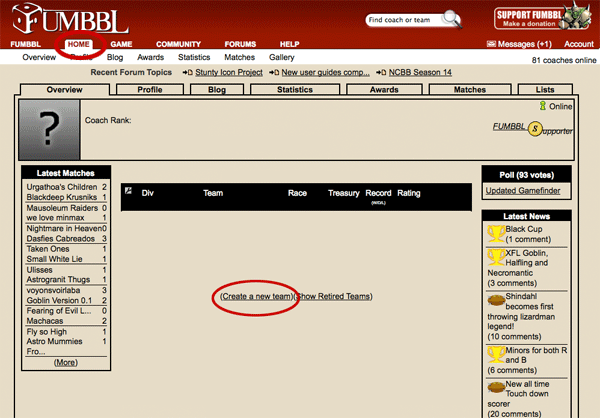 Last update: February 2, 2013