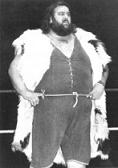 Bone-head
Mighty Blow
Thick Skull
Throw Team-Mate
Block
Juggernaut
Tackle
Break Tackle
Guard
Giant Haystacks was an immense wrestler with a bulk so big even other Ogres shrink away from him in fear. On the Blood Bowl field his stature and relish for the fight is impressive indeed. The greatest ever Blackbox Ogre team Ogre.

He loves to heft his weight onto a suffering opponent like he was jumping off the top rope!

13 casualties in his first 15 games including 3 in the 15th where he bit the head off a Wood Elf. 31 cas after 30 games. After 36 in 36 games he had the all-time 2nd most casualties from an Ogre team player in Blackbox. 48 in 48 got him to the top Ogre Blackbox blocker of all time.
After 63 matches he was the best Blackbox Ogre team Ogre of all time!
When he cas's he often kills.

RIPS(!) include: Fear the hobgoblin from Kill the Killers.
Kauri the Wood Elf from Ultra Haze.
An apo had to save a human from (R)ippers.
Regen saved a Beast of Nurgle from death though he badly hurt the thing again!
A rotter from Smell like Teen Dead Corpse.
Rotoso, a Black Orc, from Los Del Fondo.
An apo had to save an ag4 lineman from Los Presidentes, though another Ogre finished him off later in the match.
A journeyman from Prairie's Sinners.
An apo had to save superstar (and master fouler) Cobardel from the same team (still had a broken collarbone).
An apo had to save Hyronymous Borc, a Black Orc from Destroy all humans.
Last action of a match an apo had to save Bondage, a Troll(!), from Buono Propositi.
An apo had to save Bert2, a Saurus from Lizard Kingzzz.
Last turn an apo had to save Curinwe Oversatisfait, a Wood Elf, from Le plein de bonne humeur.

Every so often Haystacks even charges with the ball in his hands, shrugs off flailing opposition and takes a td. More often stupidity fouls the drive.

After his 41st match he was forced to sit out a game for the first time after suffering to a nasty Necro zombie gangfoul.
In his 51st match he was surrounded and clawed badly in the jaw by a Chaos Dwarf in an awful game so missed out on a match for the 2nd time.
In his 54th match he caused 4 casualties!
In his 55th match he was slashed by a Saw-wielding Nurgle follower and again sits out a match.
His tough run of having to miss matches continued when he was clawed by a Wolf in his 56th game.
The team apo saved him from death against Khemri in his 59th match. He returned after a kickoff and caused 2 casualties.
In his 60th match he saw all 5 of his fellow Ogres cas'd by clawpomb Chaos, with 3 of them killed! But he avoided hurt and even scored a great solo TD.
In his 63rd match it was the dumb, dumber and dumbest show against Oenarlord's Vault Tec Squad but our side's solitary cas from Haystacks meant he is now regarded as the best ever Blackbox Ogre team Ogre! (including LRB4 Ogres!). However in his 64th match he was yet again clawed by a Werewolf but this time the mauling resulted in his death!! A shock as he had never even been permanently injured before. The apo had already been used to bring Haystacks back from being badly hurt to help keep the match going (and another Ogre was killed by a mere ghoul). Alas this, combined with nuffle, led to him failing to reach the target of true legend status.
But to us and Ogrekind he will alway be a legend!